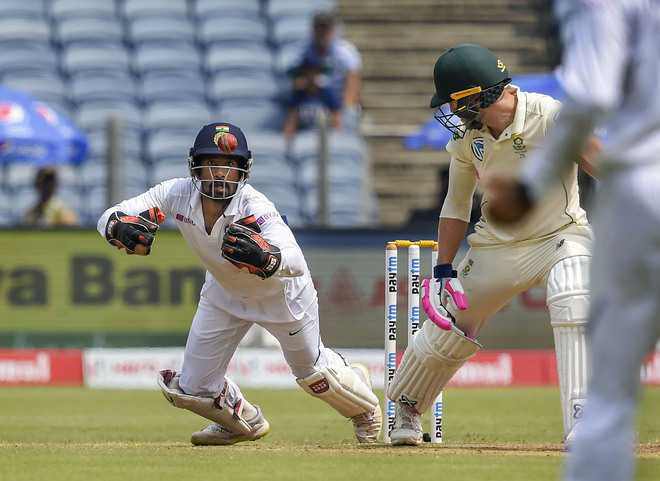 Ranchi, October 18
The cut-throat competition for a place in India's playing XI has not affected Wriddhiman Saha's relationship with his understudy Rishabh Pant as the duo try to help each other with notes on wicketkeeping.
Saha was out of the Indian team for 20 months due to a shoulder surgery but is now back to his best as wicketkeeper, having effected some stunning catches in the second Test in Pune. Six days short of his 35th birthday, the sprightly Saha was seen helping Pant with wicketkeeping drills after his training, something that has been directed by the team manager.
Asked if he is mentoring Pant, the reticent Saha replied in the negative. "There's nothing like that. We just discuss normally the way wicketkeepers discuss," Saha said. "With Sridhar (fielding coach) and Pant, we three jointly decide on how to go about our wicketkeeping on a particular type of wicket."
The coordination and rapport between them helps as it is easier for them to work together. "We always observe each other's wicketkeeping. We always try to point out each other's mistakes. It's been going well so far," he said.
Kuldeep injured, local boy Nadeem in squad
Left-arm spinner Shahbaz Nadeem has been rewarded for his stupendous show on the domestic circuit with a call-up in the Indian Test squad after Chinaman bowler Kuldeep Yadav was ruled out due to a shoulder injury. Nadeem has been a prolific performer for Jharkhand and India A over a period of time. He has had back-to-back 50-plus wicket seasons for Jharkhand. The 30-year-old orthodox left-arm spinner has taken 424 wickets in 110 First-Class matches with 19 five-wicket and five 10-wicket hauls. In 2018, Nadeem was called up in the Indian ODI team for the T20I series against West Indies at home but did not play a game. — Agencies