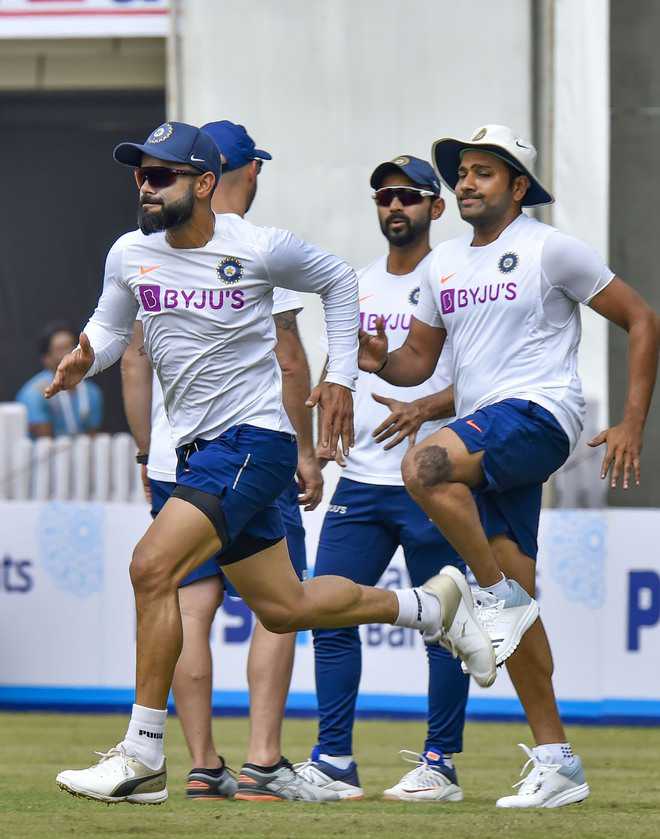 Ranchi, October 18
It would have been a dead rubber but with valuable World Test Championships (WTC) points on offer, India would be eyeing victory while South Africa would be desperate for a consolation win on their wretched tour when the third and final Test starts here tomorrow. India would be targeting 40 points and a 3-0 series whitewash against the hapless visitors.
India, who have 200 points from four games, have a massive 140-point lead over nearest rivals New Zealand and Sri Lanka in the WTC standings. Skipper Virat Kohli has made it clear that there is plenty to play for in the final Test and the team cannot afford a drop in intensity.
Going into the game, India don't have any obvious weakness, in both batting or bowling. That India have lost only 16 wickets across two Tests while routing South Africa sums up their dominance. Luck has been kind to India, too, as they won the toss both in Visakhapatnam and Pune. South Africa will be more competitive if Faf du Plessis gets lucky and wins the toss in the final Test — if they put up a big total after batting first, India could be put under pressure. With South Africa's senior-most spinner Keshav Maharaj also ruled out, the visitors will find it tougher to stop the Indian juggernaut.
Faf won't mind sending 'someone else' for toss
Having lost nine successive tosses in Asia, an exasperated South Africa captain Faf du Plessis won't mind sending "someone else" in his place for the toss of the coin in the third and final Test. South Africa have struggled in Indian conditions and not winning the toss in the first two Tests has only made things tougher for them. "We really want to make sure that we compete with this team in their own conditions. We have done it in stages in the first Test. So, hoping that we can start with the toss tomorrow. Probably we will change... send someone else to the toss tomorrow. I can give you that... because my record so far has not been great," said du Plessis in a lighter vein. — PTI
Shastri shouldn't need a re-Appointment, feels Ganguly
Kolkata: BCCI president-elect Sourav Ganguly might not share the best of relations with India head coach Ravi Shastri but the former India skipper has said that there shouldn't be a need for re-appointment of the head coach even though the ad-hoc Cricket Advisory Committee (CAC) formed to select the head coach back in August was served conflict notice by Ethics Officer DK Jain. "I don't think so that it will jeopardise the selection of Shastri. I am not sure though. Even we had selected the coach when there was this conflict issue," Ganguly pointed out. While Ganguly decided to play the question on Shastri's future with a straight bat, he did give reporters something to laugh about when someone asked him if he has spoken to the head coach after being selected for the position of BCCI president. "Why? What has he done now?" he smiled. — IANS
MSD to watch day 1 proceedings
Local boy Mahendra Singh Dhoni is expected to watch the third and final Test, his manager Mihir Diwakar confirmed. "Mahi will definitely come and you will see him during the first day's proceedings tomorrow. I was there with him in Mumbai and he will fly down tomorrow morning," Dhoni's manager and one-time Jharkhand teammate Diwakar said from New Delhi. Jharkhand State Cricket Association president Nafis Khan has sent a personal invitation to Dhoni's family. "We have sent an invitation to his family. Yeh to unka hi stadium hai (It's his stadium only). He is most welcome anytime," Khan said. Diwakar said Dhoni is likely to come alone as the Indian team is likely to have dinner at his sprawling farmhouse in Simaliya, on the outskirts of Ranchi. Dhoni has moved from his Harmu residence about two years ago and lives with his parents at his farmhouse about 30km from the city. — PTI