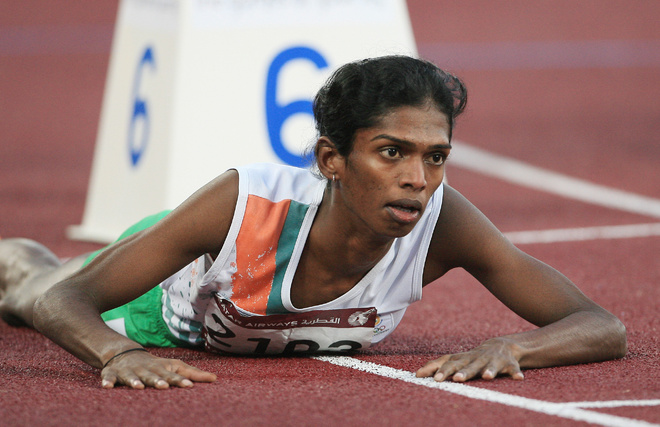 Sabi Hussain
Tribune News Service
New Delhi, May 14
Remember Santhi Soundarajan, the impoverished middle-distance runner, the toast of the nation when she won a silver medal at the Doha Asian Games in 2006? It took just a few months for her after the Doha high to fall from grace — a failed gender test resulted in the Tamil Nadu athlete losing her medal and a subsequent ban by the Athletics Federation of India (AFI).
Disgraced and ostracised, left to work as a daily-wager in a brick kiln for a measly sum of Rs 200 per day, Santhi even attempted suicide to escape the pain, poverty and discrimination.
It was at this hour that the Sports Authority of India (SAI) stepped in and allowed her to undergo a diploma course in athletics from the National Institute of Sports (NIS), Bangalore.
Santhi saw the coaching course as an opportunity to start her life afresh and train the hopeful athletes, besides taking care of her elderly parents. She was duly posted at the SAI's Special Area Games (SAG) Centre in Mayiladuthurai on a monthly pay scale of Rs 23,000.
But, despite securing a job, Santhi was always living under the constant fear of losing it one day. Reason – the job was on a contractual basis. And, it seems, her worst fears have come true. In fact, it could be as early as the next month that she might lose her job.
Santhi has been running from pillar to post to secure a permanent government job as the term of her contractual job with the SAI will end somewhere in July-August. The 34-year-old athlete fears that once her contract is over, she will be forced to return to the life of penury.
Last month, Santhi wrote a letter to the Sports Ministry, requesting for a permanent job and the release Rs 10 lakh cash award for her silver medal-finish in Doha Games. She even approached the Union Minister of Heavy Industries and Public Enterprises, Pon Radhakrishnan, with a request to get her a permanent job.
Radhakrishnan, a political heavyweight from Tamil Nadu, in turn, wrote to Sports Minister Sarbananda Sonowal to release the cash award to Santhi.
But the Ministry's response to her request for the release of prize money and a permanent job under sports quota has dealt a massive blow to Santhi's receding hopes.
"Santhi has been informed through a letter that since the medal has not been restored to her, the Ministry cannot give Rs 10 lakh cash award for the medal. Also, the Ministry does not provide or recommend jobs in central/state government offices," a Ministry official told The Tribune.
The Ministry is again non-committal to Santhi's fresh plea for a permanent job. With the time running out fast for her, Santhi has decided to meet SAI Director General Injeti Srinivas to work out some solution.