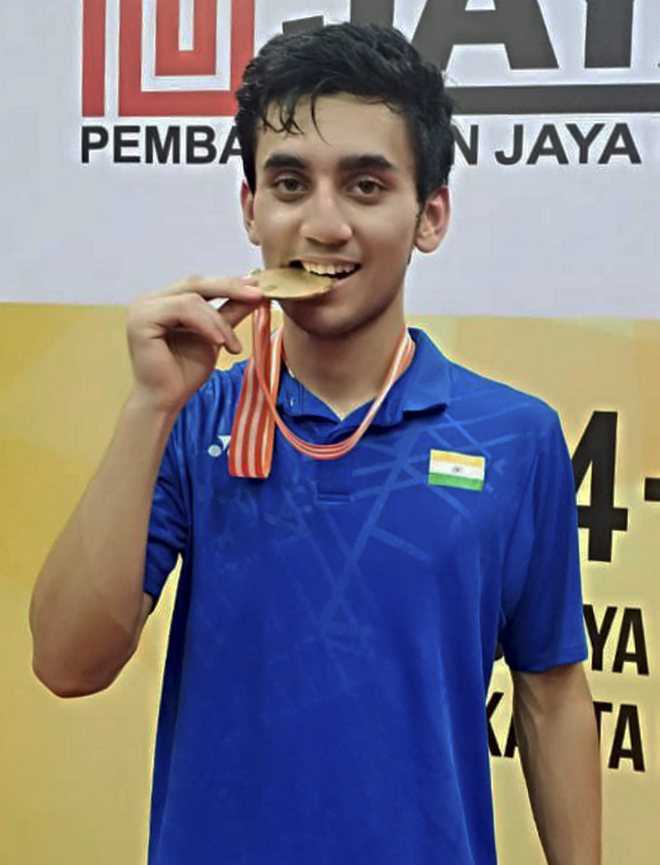 New Delhi, July 22
Lakshya Sen has become only the third Indian badminton player to win a gold at the Asia Junior Championships, defeating world junior champion Kunlavut Vitidsarn of Thailand 21-19 21-18 in the final in Jakarta today.
Sen, who turns 17 next month, had won a bronze in the last edition of the tournament. Today the Uttarakhand lad was unfazed by strong support for Vitidsarn and won the very tight match in 46 minutes.
"I am happy to win the tournament. It will boost my confidence. I played in the team event and then in the individual event, so it was a long tournament. The focus was on recovering well after each match and I am happy I could play well and win," Sen later said. "I got a very good support from team members as well. This Asian Junior gold is precious to me."
"The win against second-seed Chinese the other night helped me. I carried my confidence further and beat the fourth seed in the semifinals. And today, I played my natural game to beat Kunlavut. Since it was our first meeting, I played freely without any pressure," he added.
First since 1965
The late Gautam Thakkar was the last Indian man to win the prestigious title in 1965. Olympics silver medallist PV Sindhu won the women's title in 2012, having won a bronze in 2011. Among the men, Sameer Verma won a silver in 2011 and bronze in 2012, while the mixed-doubles pair of Pranav Chopra and Prajkta Sawant won a bronze in 2009.
Sen has been sensational in the tournament as he stunned second seed Chinese Li Shifeng, then fourth seed Indonesian Ikhsan Leonardo Imanuel Rumbay in the semifinals, and top seed Vitidsarn in the final. "It was very hectic. In fact, ahead of the tournament I had to tweak my training a bit as I had suffered shin splints. During the tournament also I had to take pills sometimes to curb the pain," he said. "Overall, it was a good tournament. I have played all these top players before, so I knew there game."
Close match
Sen was cautious in his approach, and was trailing by a few points in the first game before he caught up at 9-9. Using his customary drop shots and half-court smashes, he went 13-11 up. He didn't look back thereafter despite his rival coming close to him at 16-15.
In the second game, Sen led with a slender margin but managed to maintain a two-point lead almost all the time. But midway through the game, Kunlavut inched closer to Sen and was trailing by a single point at 10-11. Yet, there was no real threat to the six-seeded Indian, who upped the ante and forced Kunlavut to commit errors at the net, gaining a four-point lead. The Indonesian again reduced the margin but could not overcome Sen. — TNS, Agencies
Top News
Says China looks for excuses for military exercises, this ti...
On June 30, Shinde was sworn in as chief minister and Devend...
Bihar CM to meet party MLAs today
There were more than 40,000 incidents of people reporting is...
India finish with 61 medals, five less than their tally at G...