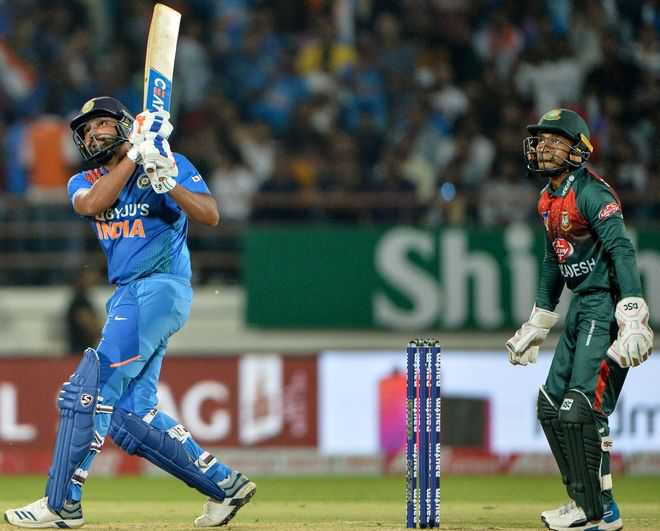 Tribune News Service
Chandigarh, November 8
Rohit Sharma is the undisputed Master of Sixers in international cricket — he's hit the most sixers combined in Tests, ODIs and T20Is in each of the last three years. Rohit struck the ball over the boundary 74 times in 2018, and this year he's already done it 66 times. The second best in 2018 was 50 sixers, by Shimron Hetmyer of West Indies, and the second-best this year are Chris Gayle and Eoin Morgan, both at 58.
In 2017, Rohit had topped the charts with 65 sixers. The previous year Rohit was second-best with 46 sixers, with Martin Guptill of New Zealand topping the table with 54 sixers. In all, Rohit has hit 251 international sixers in the last four years, in a total of 145 matches. The next on the list is Morgan, with 139 sixers in 109 matches.
Only on three occasions have over 60 sixers been hit in international cricket in a year — three of them by Rohit.
No muscle no problem!
"You don't need muscles to hit sixes, even you (Chahal) can hit them," Rohit told Yuzvendra Chahal today, in an interview hosted by the BCCI's website.
"In any case, sixes are not just about power but also timing, head should be still, position should be good. All this will ensure that you hit sixes," Rohit explained to Chahal, who was clearly amused by how casually Rohit talked about hitting sixers.
Yuzvendra asked Rohit whether he was going for six consecutive sixes in the 10th over, bowled by off-spinner Mosaddek Hossain. With Hossain bowling around the wicket, Rohit pulled the first three balls for sixers — the first over deep midwicket, the second over deep backward square-leg and the third over wide long-on. Hossain fired the fourth ball fuller. Rohit tried to hit another six but could only edge it to short fine-leg.
"That's what I tried, I wanted to go for six in a row but when I missed the fourth one I decided to go for singles," Rohit said. "I knew that an off-spinner was bowling, and the wet ball was not going to turn, so my plan was to stand still and hit the ball without stepping out."
"It's been a very good so far, just want to finish it off on a great note," Rohit said. "We've got a few games coming up, one against Bangladesh and then there's a whole West Indies series. So I'm quite looking forward to that, not to forget the two Test matches (vs Bangladesh)."
Malan, Morgan smash NZ into submission, level series
NAPIER: Dawid Malan smashed a 48-ball century and skipper Eoin Morgan made a blistering 91 to help secure a series-levelling 76-run victory in the fourth T20 International against New Zealand today. Malan and Morgan featured in a massive 182-run partnership to power England to 241/3, their highest total in this format, hitting 13 sixes between them. When the teams returned, spinner Matt Parkinson claimed 4/47 as New Zealand were all out for 165 in the 17th over, squaring the series at 2-2. Auckland hosts the fifth and final match on Sunday. "Not very often you have days like that when every time you have a hack at one it lands safe or goes for six," Malan said after collecting the Man of the Match award. "It's as good as it gets. Felt like I had rhythm today, glad I clicked especially with these short boundaries." Morgan, at the other end, put up a six-hitting display of his own, clobbering seven of them as he threatened to eclipse Malan's hundred.
Brief scores: England: 241/3 (Malan 103*, Morgan 91); New Zealand: 165 (Southee 39; Parkinson 4/47). -Reuters
Australia hammer Pak to win series
PERTH: Pakistan were left humbled and humiliated by Australia's miserly bowling unit, which set up a comprehensive 10-wicket victory for the home side in the third T20 International today and ensured a 2-0 triumph in the rain-affected series. Batting first after losing the toss, the tourists mustered just 106 after Australia's seamers combined for seven of the eight wickets to fall. The target posed no problems for the hosts who blasted their way to 109 in 11.5 overs. Pakistan struggled from the outset, with paceman Mitchell Starc picking up two wickets in the third over. Babar Azam, the world's top-ranked T20 batsman, was trapped leg-before for only six. Sean Abbott, playing his first international match since bowling a bouncer which fatally struck New South Wales batsman Phillip Hughes in 2014, bowled economically and was heartily embraced by his teammates when he induced a top edge from opener Imam-ul-Haq (14). "Sean, to come back after five years and do the business first up was unbelievable," said winning skipper Aaron Finch. The modest Perth crowd experienced their first T20I in nine years.
Brief scores: Pakistan: 106/8 (Iftikhar 45; Richardson 3/18, Abbott 2/14, Starc 2/29); Australia: 109/0 (Finch 52*, Warner 48*). -Reuters