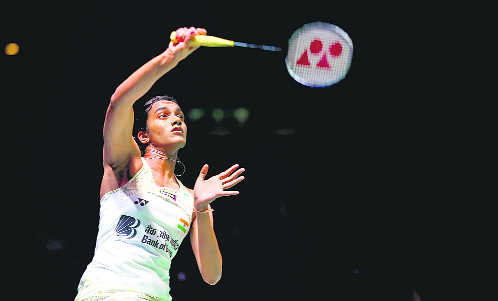 birmingham, march 16
PV Sindhu produced a top-notch performance to eke out a thrilling three-game victory over Nozomi Okuhara of Japan to progress to her maiden semifinal at the $1000,000 All England Championship.
Sindhu outwitted Okuhara 20-22 21-18 21-18 in a battle that lasted an hour and 24 minutes.
With this victory, Sindhu registered her fifth win over the Nagano-born world No. 6 Japanese, who robbed her of the World Championship gold at Glasgow after a 110 minute marathon battle which went down in history as one of the greatest.
Seventh seed Okuhara and Sindhu split the initial eight points but the Hyderabadi gained a 6-4 lead briefly after an unsuccessful referral by Okuhara.
Sindhu again grabbed the slender two-point lead when her opponent hit wide twice. After a few more rallies, Sindhu sent one to the net to give a slender 11-10 lead to Okuhara at the first break.
Okuhara maintained her one-point advantage at 12-11. A towering smash and soft drop near the court gave Sindhu the lead, which swelled after Okuhara served at the net and sent one wide.
The duo moved neck-and-neck from 16-16 to 19-19. Okuhara then sent one over the back line to hand over a game point to Sindhu, whose return got buried at the net as it was 20-20. Sindhu then lost two successive video referrals as the Japanese earned the bragging rights.
In the second game, Okuhara made it 6-4 before Sindhu drew parity after the Japanese hit the net twice. The Indian managed a 9-7 lead but she lost two points as the score got locked again. A flat return on the forecourt and then a return at the back gave Sindhu an 11-9 lead at the breather. Sindhu enjoyed a three-point lead for the first time at 14-11, which she extended to 16-13. However, the Japanese made it 18-18 again. Okuhara miscued her strokes twice again to hand over game points to Sindhu, who grabbed it this time when the Japanese erred again.
In the decider, Okuhara took one-point lead before going into the break. She extended her lead to 14-11. A reverse slice gave Sindhu a point but she committed two unforced errors as Okuhara jumped to 16-12. Sindhu fought back with a reverse slice to move to 18-17 but a desperate return ended at the net. The Indian dominated the net next and then sent one to the back line to grab two match points and then sealed the contest with another precise on-the-line return.
Srikanth loses
Kidambi Srikanth crashed out after suffering a narrow defeat (11-21 21-15 20-22) to China's Huang Yuxiang in the pre-quarterfinals.
Satwiksairaj Rankireddy and Chirag Shetty lost to the Danish combo of Mathias Boe and Carsten Mogensen 21-16 16-21 23-21. Pranaav Jerry Chopra and N Sikki Reddy lost to Wang Yilyu and Huang Dongping of China 6-21 10-21. — PTI
Top Stories