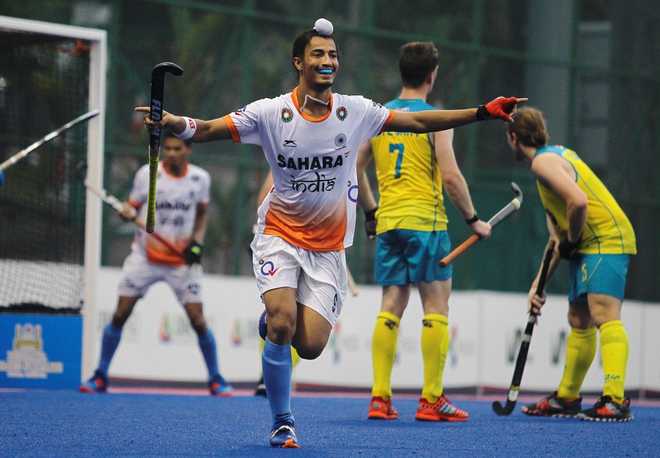 Indervir Grewal
Tribune news service
Chandigarh, November 1
Dilpreet Singh turns 18 on November 12. There are no big plans for his birthday, he said, but the teenager has already given himself the best present. Dilpreet's performance at the Sultan of Johor Cup has created a buzz in the hockey circles, garnering praise from all quarters. The junior India striker is already being considered as the next big thing.
In his first international tournament in the U-21 age group, Dilpreet scored nine goals in six matches — a hat-trick and three braces — to end up as the tournament's top-scorer and help India win the bronze medal.
"No, I didn't feel any nervousness or pressure (about first U-21 international tournament). I was just excited," said Dilpreet. He added that playing in last year's U-18 Asia Cup, which India won, helped with his confidence.
But the Sultan of Johor Cup had Australia and Great Britain? "I wasn't nervous. It was a different experience, though. I had only watched these teams on television earlier. I enjoyed the challenge," he said.
'Magic'
Dilpreet scored some breathtaking goals, including the two against eventual champions Australia. He created the goals out of nothing, even taking the commentator by surprise. "He cannot stop scoring," was the commentator's reaction after the first goal. The second — a deft reverse-stick chip over the goalkeeper from a narrow angle — got the commentator saying, "That is just some of the magic that is Dilpreet Singh! This young man has a very bright future."
Dilpreet started playing hockey on the grass field in his village Butala in Amritsar district when he was seven years old. He was inspired by his father Balwinder Singh, who played for the Army. When he was 11, Dilpreet was sent to Maharaja Ranjit Singh Hockey Academy in Amritsar, but after two-three years, he shifted to Surjit Academy in Jalandhar.
"He was always good at scoring," said Avtar Singh, coach at Surjit Academy. "But in the last two years, he has seen phenomenal growth — physical and mental. His game sense has improved, so has his all-round game."
In Johor Bahru, Dilpreet was not just the top-scorer, but had many assists, including two in the bronze-medal playoff against Malaysia. But that was not the case when he was younger. "When he came to us, he was a selfish player. I guess it can happen with players with such talent. He was always good with the ball, great in one-on-one situations," said Avtar.
"We had to work on making him a team player. We started using him as a midfielder on occasions. It helps your playmaking and defensive skills. The modern game requires all-rounders."
Dilpreet has come a long way, said Avtar. He is no longer the scrawny boy who came to the Surjit Academy. Dilpreet credits the regimen at the national camps, of which he has been a part for two years, for his improved strength. "He is maturing as a forward and has the potential to become another Akashdeep Singh, if not better," Avtar said.
Who is Dilpreet's favourite player? "Akashdeep Singh," said the soon-to-be 18-year-old as if there could be no other choice.
Top Stories