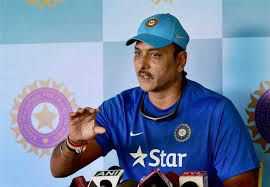 Chandigarh, April 17
India coach Ravi Shastri, trying to make the best of India's middle-order confusion, has said that India can be "very flexible" about the No. 4 position in the World Cup.
The No. 4 position has been in focus before and after the Indian team's selection two days ago. Until last year, Ambati Rayudu had been almost certain to bat at No. 4 at the World Cup. But was not picked up at all — chief selector MSK Prasad said Vijay Shankar has been put down for that slot, for now. Others who could bat at that spot are Dinesh Karthik, KL Rahul and even MS Dhoni.
Shastri said that the team will have "total flexibility" regarding No. 4.
"Total flexibility (on the No. 4 position), depending on conditions, opposition," Shastri said. "I would say the top three… But after that you can be very flexible."
Shastri said that he would have preferred to have 16 players in the India squad. "When you only have 15 to pick, there is bound to be someone or the other who misses out, which is very unfortunate," Shastri said in an interview with a Gulf-based publication. "I would have preferred 16 players. We had mentioned to the ICC that in a tournament that long, 16 players makes sense. But the diktat was 15."
Shastri brushed aside the criticism that India seem to be too reliant on Kohli. "If you look at the last five years, the way the Indian team has performed, they have always been in the top-2 or 3," the coach said. "To be in top-2 or 3 for five years in a row, No. 1 in Tests, again top-3 in T20 cricket… You can't depend on one player."
He said those who missed out on a World Cup spot should look ahead as opportunity can knock any time. "They (who missed out) shouldn't lose heart. It's a funny game. There could be injuries. So you never know when you could be called up," he said. — TNS, Agencies
---
Pant, Rayudu named standbys for World Cup
New Delhi: Young wicket-keeper Rishabh Pant and veteran batsman Ambati Rayudu were today named among the standbys for India's World Cup squad, reigniting their dashed hopes of making the trip to the UK in case an injury setback hits the side. Speedster Navdeep Saini also found a place in the list of three back-ups for the mega-event starting on May 30. With the ICC doing away with the practice of letting countries announce a probables' list before the final squad, the BCCI also has the option of including anyone apart from these three but it is unlikely to happen. PTI