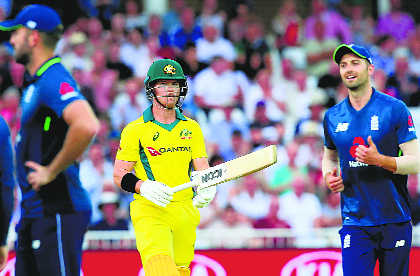 Nottingham, June 20
England captain Eoin Morgan says his side missed an opportunity to score 500 after they racked up the highest score in the history of ODI cricket against Australia in Nottingham. The world's No 1 team hammered their opponents by 242 runs after making a world-record 481/6 at Trent Bridge. It also sealed the series for the hosts, who are 3-0 up ahead of the final two matches in Durham and Manchester. Surrey hold the record for the highest total in any form of 50-over cricket, having made 496/4 against Gloucestershire in the Friends Provident Trophy in 2007. England came close to breaking that mark and a proud Morgan, who made 67 from 30 balls, revealed he thought a total in excess of 500 was on when he was at the crease alongside Alex Hales, who top-scored with 147.
"It was close," he said. "Where we found ourselves today with probably six overs to go we would never have imagined after the game against Pakistan we'd come close to and be staring down the barrel of scoring 500. It is an opportunity missed but I'm very proud of what we achieved today. It's definitely the best performance under my captaincy by a stretch I think."
England hit 21 sixes in total, more than the 18 they managed during the entire 2015 World Cup in Australia and New Zealand, where they were embarrassingly dumped out in the first round. That shows how far this team have come in the intervening three years and Morgan admitted: "I'm extremely proud. I've mentioned before the avenue my career has taken the last three years but certainly this is the best period of my career and the proudest as well."
This performance underlined England's status as favourites for next year's World Cup, which they are hosting. "We don't know where the game will be this time next year," said Morgan. "Certainly we're putting ourselves in the best position if we continue to challenge ourselves. If we have a healthy learning curve we'll be in a good position next year."
This was a record ODI defeat for Australia in terms of runs. "We're a long way off," he said. "England are red hot, the best team in the world. Today was as tough as it gets. I've been playing cricket since I was a kid and that was the hardest day's cricket in my life. We didn't execute with the ball. It's one of those days. We have to learn and get better." Australia are a long way off doing that. — The Independent
Top News
Says China looks for excuses for military exercises, this ti...
On June 30, Shinde was sworn in as chief minister and Devend...
Bihar CM to meet party MLAs today
There were more than 40,000 incidents of people reporting is...
India finish with 61 medals, five less than their tally at G...