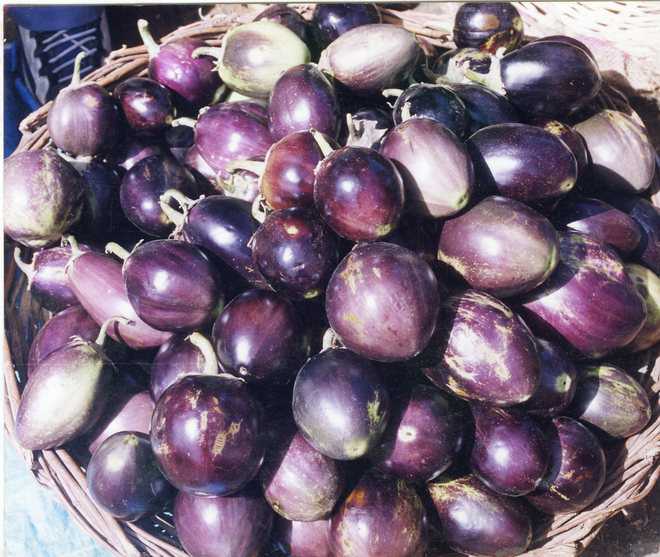 editorial@tribune.com
Sushil Manav
Tribune News Service
Chandigarh, April 26
The state has directed the district monitoring committee constituted under the Department of Environment and Climate Change to take samples from a field of a farmer in Fatehabad district who is allegedly cultivating the banned Bt brinjal variety.
Arjun Singh Saini, Director of Horticulture in Haryana, told The Tribune on Friday that the committee headed by a deputy commissioner had been asked to take samples of brinjal for testing so that it could be ascertained if the vegetable was the banned genetically modified Bt brinjal.
Dr Rajinder Chaudhary, an environmental activist and a representative of the Coalition for a GM-Free India, had on Thursday alleged that nine years after India banned Bt brinjal, the genetically modified (GM) crop was still in circulation.
The environmentalists led by him had cited the example of a farmer from Fatehabad who had allegedly been cultivating the crop for a couple of years.
The representatives of the Coalition for a GM-Free India also demanded immediate action from the Central and state governments.
Talking to The Tribune, Chaudhary said they were not revealing the identity of the farmer or his village to the media as of now because they feared the crop would be uprooted overnight to escape action.
"We have already revealed the name to the horticulture and agriculture authorities in Haryana and have given them samples of the crop for testing," Chaudhary said.
He further claimed that the banned Bt brinjal was not only being cultivated in Fatehabad, but also in Jeewan Nagar and Dabwali in Sirsa district.
"If cultivation of Bt brinjal is proved at three places, the practice must be going on at many more places in the state," he said.
Sources said Bt brinjals were sold in local mandis like any other brinjal.
Admitting having received samples from Chaudhary and other activists, Saini said the government had asked for fresh samples because these were to be taken by the district-level committee only and had to be stored at a very low temperature of -20°C.
"I have already spoken to the authorities in the National Bureau of Plant Genetic Resources where these samples are to be tested. Once we receive reports of the samples, we will take suitable action," said Saini.
Variety banned since 2010
The debate around Bt brinjal started in 2000 when Mahyco (Maharashtra Hybrid Seeds Co) came up with a genetically modified brinjal
Seeds were exported to Bangladesh and the Philippines in 2006 as civil society resisted field trials in India
In 2010, India banned the Bt brinjal variety