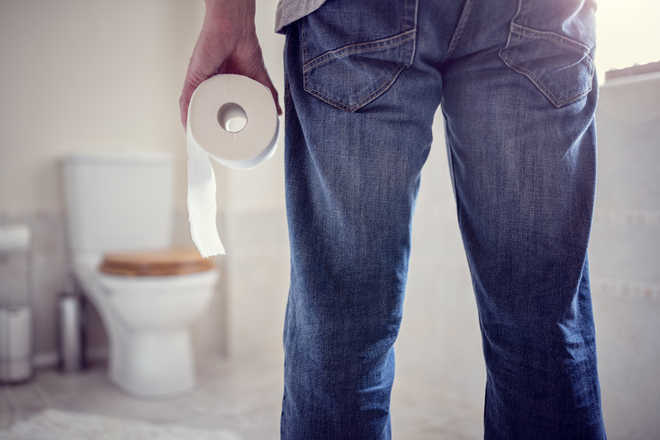 singhking99@yahoo.com
Dr Amarchand S. Bajaj
Piles or haemorrhoids is one of the most common diseases afflicting a large number of persons. This disease is more common among younger people and pregnant women. In almost 90 per cent of the cases, piles can be treated without surgery and patients can lead a normal life.
Early signs
Early diagnosis and action is crucial if patients wish to avoid surgery and instead recover through conservative treatment. Constipation is one of the most common symptoms among the patients suffering from haemorrhoids. People suffering from constipation for longer periods of time should get a checkup for an early diagnosis and treatment.
People afflicted with piles usually experience bleeding while passing stool, may have peri-anal itching, or may feel something coming out of their anus (prolapse). It is critical that the patients consult a surgeon or a doctor immediately if they witness blood in their stool. Since experiencing blood in stool can also be a symptom of rectal cancer, it is important for patients to consult a doctor and get a thorough analysis.
Patients should have a clear understanding of the difference between haemorrhoids and fissure. If a patient experiences painless bleeding while passing stool, it is mostly a symptom of haemorrhoids. On the other hand if they experience painful bleeding while passing stool, they might be suffering from fissure. This can only be confirmed through a clinical examination by a medical specialist.
Treatment without surgery
In cases of grade 1 and grade 2 haemorrhoids, patients, who experience less bleeding, can be treated through conservative management and medicine without the need for surgery. Lifestyle changes play a crucial role in helping the patients regain their health quickly and lead a healthy life. Here are some of the changes that can significantly help in the recovery of the patient:
Healthy and fibrous diet: It is important that the patients avoid spicy and processed foods that can aggravate their condition. A vegetarian diet rich in fibre is highly recommended. A patient's diet should include leafy vegetables, whole grains, cereals and fruits.
Increased intake of fluids: A patient should drink lots of water and fluids which can help avoid constipation. Constipation is a major problem that aggravates the condition of the patient, so it is important to be treated as soon as possible.
Regular exercise: A healthy lifestyle involving daily exercises or walking for around 35-40 minutes can significantly help a patient.
Oral laxatives: Even with the proper lifestyle and dietary changes, patients might still suffer from constipation. In such cases, doctors might suggest oral laxatives which can help the patients to overcome constipation.
There is still fear and embarrassment among people when it comes to piles treatment. Many are not aware of the simple treatment measures that do not require surgical interventions. If the haemorrhoids are not treated on time, it can lead to grade 3 and grade 4 haemorrhoids. However, in such cases surgery might be the last resort as avoiding surgery could lead to severe anaemia, i.e. low haemoglobin due to chronic blood loss.
Even if surgery is advised, there is nothing to worry about, as surgeries nowadays are nearly painless and can be done on a day-care basis. At present, minimal-access surgery options like stapled haemorrhoidectomy are available which are almost painless, and result in faster recovery.
It is cannot be stressed enough that patients need not be scared of haemorrhoids as timely diagnosis leaves plenty of non-surgical interventions which are effective in treating the disease in majority of the cases.
— The writer is a senior consultant, general, laparoscopic and bariatric surgery, Sitaram Bhartia Institute of Science & Research, New Delhi
All readers are invited to post comments responsibly. Any messages with foul language or inciting hatred will be deleted. Comments with all capital letters will also be deleted. Readers are encouraged to flag the comments they feel are inappropriate. The views expressed in the Comments section are of the individuals writing the post. The Tribune does not endorse or support the views in these posts in any manner.
Cities