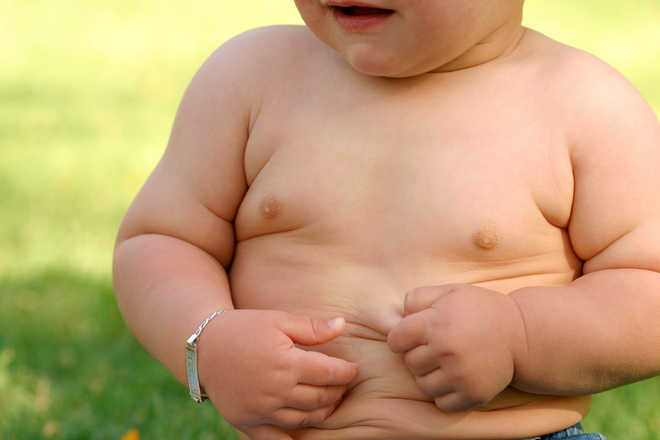 singhking99@yahoo.com
Dr Rohit Arora
One of the biggest concerns almost all mothers have is that their babies are not growing well enough as they are thinly built. Chubby babies may look cute and cuddly but they may not be healthy. In fact, whether a child is healthy or not cannot be determined by his or her physical health. The average height of a new-born is about 50 cm and the average weight is about 3.25kg. Now, if your baby is 55 cm in height and weighs 3.3kg, he/she may look thin but is absolutely normal and healthy. Some babies have a genetic constitution that keeps them slim while some may gain weight despite moderation. Therefore, if your baby has the appropriate height and weight ratio, there is no need to worry.
Is fat a concern?
Yes, because some researches have shown that a fat baby may have higher chances of being obese in future. In an age where non-communicable diseases, triggered by obesity, lifestyle choices and junk food, have reached the epidemic proportions, maintaining the right weight from the beginning is good. There are a few simple measures parents can take to make sure that their babies grow up into a healthy adult:
Breastfeed: Ensure breastfeeding the baby for at least six months. Studies have shown that babies breastfed for this duration tend to be leaner but with better immunity and lesser chances of catching infections and allergies. Breast milk is perfect for the baby's nutritional needs and meets the growth demands. Besides, it is almost impossible to breastfeed more than required; whereas overfeeding can happen in cases of formula milk feeding which invariably leads to excessive weight gain.
Do not respond to baby's cry with a feed: This is a major reason babies are overfed. Babies cry for many reasons – hunger is only one of these. They also cry when they are tired, overwhelmed, scared, uncomfortable, bored, or just want to be held. If it has been only a short time since a feed, try checking/changing the diaper, holding and soothing, talking, playing, etc. It is important to start early to allow the baby develop a sense of the range of experiences instead of making them think of feeding – creating an unhealthy association with eating that are hard to undo.
Do not overfeed: Unless the doctor tells that the baby needs more nourishment, avoid overfeeding at all costs. It is natural to want a baby to finish a bowl of food, but you should stop as soon as the baby stops. Let him/her listen to his/her hunger cues which will be an important factor for the rest of life.
Give healthy solid food: By around six months, give your baby fruits and vegetables, legumes, whole grains, and even non-vegetarian foods like eggs, fish and lean meats. Use this period to build their taste for foods and before they become choosy. Feed iron-fortified baby cereals in moderation.
Start family meals early: Children who eat meals with their parents are less likely to be overweight, so put baby's high chair at the dining table. Family dinners also help build strong relationships.
Ensure the baby remains active: Get your baby moving and make him/her start exercise early. Get your baby on the floor; create safe places for them to crawl, learn to walk and run, do "tummy time," encourage movement. Take them out for walks and make sure they walk and run in open spaces.
Avoid too much of screen time as it encourages binge eating and reduces physical activity leading to obesity, besides having adverse impact on the developing brain of a child.
— The writer is head of neonatology & paediatrics, Miracles Mediclinic & Apollo Cradle Hospital, Gurgaon
Top Stories