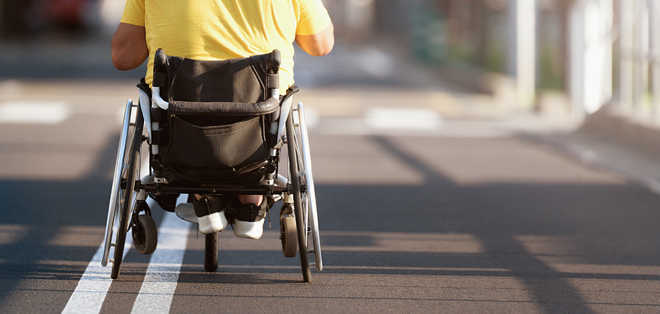 singhking99@yahoo.com
Dr Chitra Kataria
Yoga is not only a form of physical exercise but this ancient practice has a spiritual aspect to it. This makes yoga not only a good workout but also a stress-buster and a means for relaxing the mind.
This age-old practices aids in correcting postures and relieves pain. Yoga is a versatile art as its movements can range from easy and gentle to vigorous ones depending upon the ability and age of the practitioner. However, people with limited mobility, especially those who are bound to a wheelchair, may find it impossible to practise the vigorous movements of yoga.
But as specified earlier, yoga is beauty lies in its versatility. People with disabilities can practise this ancient art in their wheelchair only. They can perform a set of modified movements that can be done sitting in a wheelchair. They can practice various exercises, including breathing ones, without any difficulty. They can learn breath control and meditate and also perform a series of postures so as to discipline their body and mind.
Benefits
Wheelchair users can practice yoga despite having limitations. However before they start, they must consult their doctor. When practicing wheelchair yoga, they should focus on correct posture of each pose and breathe normally as they hold each stretch. Most important is that they should keep in mind their limitation when stretching– and should feel tension but not pain.
Wheelchair-friendly asanas
These are some of the yoga poses that can performed in a wheelchair.
The cat pose: Hold the sides of your chair or place your hands on your thighs in front of you. Spend a few moments breathing in and out to let your muscles and body relax. Inhale, and then exhale slowly as you lean your upper body forward, drop your chin down, and arch your back. Hold this position for a few deep breaths and then gently return to an upright position.
Forward bend: Inhale deeply and straighten your back as much as possible so that you are sitting straight and tall. Exhale and bend forwards from your waist, ensuring that you hold on to your wheelchair for support. Hold this position for up to 5 breaths, and then slowly move back into your seated position.
Hip stretch: As you inhale, lift one of your legs and rest it gently so that it crosses over your other leg. Breathe slowly and deeply, staying in this stretch for 3 to 5 breaths. Slowly bring your leg back to its regular position. Repeat the stretch on the other leg.
The twist: Inhale deeply as you slowly rest your right hand on top of your left leg, using your left arm for support. Exhale and turn to look over your left shoulder, holding this position for up to five breaths. Gently release from this position and return to your original seated position.
Leg stretch: Inhale and stretch your back by sitting up tall in your wheelchair. Exhale slowly and wrap your hands around the back of your leg or shin. Lift your knee so that it is at a comfortable level, and hold this position for up to five breaths.
---
Some key benefits
Increased strength, flexibility, and balance.
Relief from the pressure of being in a seated position.
Reduced stress and anxiety through heightened relaxation.
Improved posture, blood flow and reduced blood pressure.
Improved bone and muscle health.
Strengthened joints and connective tissues.
Lowered cortisol levels and better regulated adrenal glands.
Strengthened muscles to increase ease of daily tasks such as wheelchair transfers.
Improved mood and focus.
Deeper, more replenishing sleep.
Yoga groups and classes can also offer added social benefits.
— The writer is chief of rehabilitation services, Indian Spinal Injuries Centre, New Delhi
All readers are invited to post comments responsibly. Any messages with foul language or inciting hatred will be deleted. Comments with all capital letters will also be deleted. Readers are encouraged to flag the comments they feel are inappropriate. The views expressed in the Comments section are of the individuals writing the post. The Tribune does not endorse or support the views in these posts in any manner.