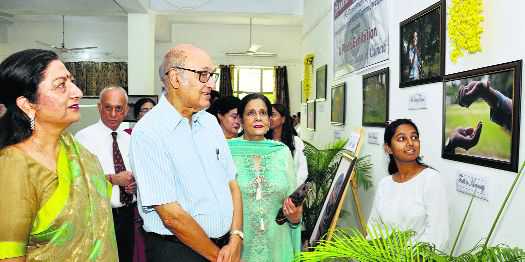 vermaajay1968@gmail.com
Tribune News Service
Jalandhar, August 19
Various colleges in the city today organised programmes to mark World Photography Day.
Students from the Department of Journalism of Kanya Maha Vidyalaya today put up an exhibition of photographs clicked by them in the past few days. Nearly 55 pictures clicked indoor and outdoor focusing on nature and childhood were put up during a day-long exhibition held at Virsa Vihar today.
Journalism and mass communication department and personality and skill development cell of DAV College organised a photography workshop to mark the occasion in which Rohit Adlakha, mentor and photographer, Fujifilm India, joined as the speaker.
Adlakha gave information regarding creative photography to students that how a common picture can be made special and attractive. He also gave information about picture quality, lens, pixels, angle, shutter speed, auto-mode, P mode, ISO and lighting. Discussing various dimensions of photography, he described the technical nuances of camera. He also spoke about mirror lens and said in the coming time, mirror lens would be used as the most common lens. He told them all benefits of this lens.
During this time, principal of the college SK Arora congratulated everyone.
He said photography had become an integral part of our lives.
"With the latest smartphones in hand, everyone can show their hidden talent of photography," he said.
The department of journalism and mass communication, CT Institute of Higher Studies (CTIHS), organised a one-day photography workshop-cum-extension lecture.
Rohit Bahri, a renowned fashion, lifestyle and commercial photographer from Pro Cine Hub, remained the key speaker. The workshop was split into two parts — indoor session and outdoor session. The indoor session comprised topics such as 'How to operate a DSLR on manual mode?' Various technical aspects of camera like aperture, ISO and shutter speed were also discussed.
Bahri emphasised on various genres such as product photography, fashion photography, portfolios and food photography. He practically showed students the usage of lighting in different ways and with keeping a plain wall as a background.
Telling about the workshop, Vishal Kumar, coordinator of the department, said: "The outdoor session was a hands-on practical session in which students used professional cameras visualising their concept and learning various aspects of outdoor photography in natural lighting. The guest gave students the task to click pictures on 'Capture what you love'. The workshop remained quite useful for the exposure of students. CT Group managing director Manbir Singh appreciated the efforts of the department and said such workshops were quite essential for students' exposure.