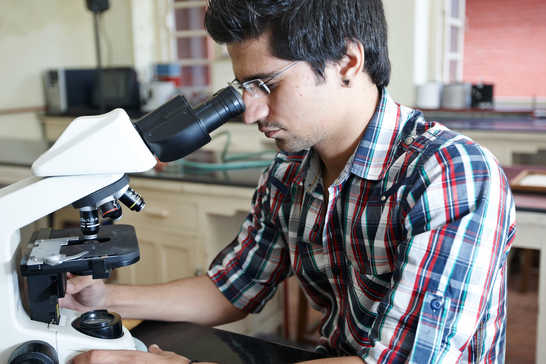 vinaymishra188@gmail.com
Q.I am a student of BSc zoology. Can you please tell me something about Agricultural Biotechnology, please? — Harkeerat Suri
A.The most revolutionary and widespread application of biotechnology is in the field of food production.
Given the growing human population, the dwindling land mass available for agricultural cultivation and the vagaries of weather, crop disease and so on, Plant Biotechnologists have used breakthroughs in cellular regeneration to improve and increase the production of wheat, rice and other staples. Today, the per-hectare yield of these staples has more than quadrupled and the quality of output is vastly superior.
For instance, "booster broccoli" packed with more nutrients than any other veggie, has joined the gang of "super foods" believed to prevent heart disease, overweight, cancers and degenerative diseases like Alzheimer's, and tomatoes that can reduce risk of prostate cancer have been developed.
Agro-biotech provides us with a new technology to improve almost any aspect of a crop, including disease resistance, quality, stress tolerance, wood texture. New ornamental plant varieties will be created and existing metabolic pathways re-directed into the manufacture of novel bio-products such as pharmaceuticals, antibodies and biodegradable plastics. Plant biotechnology is, therefore, an essential discipline for the future of agriculture, horticulture, forestry, food science and the vast array of industries that exploit plant products.
While application of agri-biotech requires sound knowledge of a wide range of disciplines like law and management, its execution calls for high level technical competence in molecular and cell biology, tissue culture and biochemistry.
Biotechnologists have been able to improve the quality, nutritional content and yield of food products, alter genetic defects in animals and humans, create pesticides that protect crops without harming consumers, deal with wastes in an environment friendly manner and so on.
The Government of India has allotted high priority to Biotech development and its exploitation in agriculture and other related disciplines.
Do get in touch with the National Agri-Food Biotechnology Institute in Mohali for detailed info on this field.
NABI is an autonomous institute of the D/o of Biotechnology, M/o Sc & Tech, GoI whose main aim is to improve the nutritional quality and availability of affordable agri-food and food products through innovations.
Details: www.nabi.res.in
---
Foray into school management
Q. I completed BTech in 2005 and have several years of work experience in the IT field. Now I am thinking of doing some certification in school leadership and management and get into administration or managerial role in schools. Kindly guide me in this context. — Suparna Datta
A. A course in Education Management will equip you with the administrative and operational abilities to run an academic institution. Several B-schools and Universities that offer these courses e.g. NMIMS, GD Goenka University, SNDT University etc that you can explore.
Your extensive experience in IT may serve you in good stead considering that schools and colleges are increasingly harnessing technology to upgrade their delivery and functioning.
---
Philosophy will not fail you
Q.I'm doing BA (Philosophy) as this was the only option I had to study in a good college with my percentage. What exactly is the scope of this course? Gayatri Uppal
A.An interesting and fascinating subject that deals with the fundamental questions related to ethics, metaphysics (nature of reality, knowledge, morality, existence and beliefs), politics and law, science and enquiry, religion etc, the careers that follow directly from a course in Philosophy are primarily limited to academia, research and writing. But this doesn't mean that those who study the subject are stuck in a dead-end, hopeless situation.
Studying philosophy will force to you to think, to question and analyse. It will improve your reasoning, logical thinking, critical analysis as also your reading and writing skills. These are skills that can be applied to a wide gamut of areas and are especially invaluable in fields such as management, administration and politics, law, media and writing.
---
A suitable PG course
Q.I am a final year student of BSc (Hons) physiology. I had cleared my Class XII with 94 per cent marks with computer science as an additional subject. What should be my PG course? — Vishal Kapur
A.The first question to ask is whether you wish to pursue a career related to life sciences or steer away from it and start exploring the options accordingly.
If it's the former, you have such an incredibly wide range of options available to you. Besides pursuing specific areas in biological sciences e.g. biomed, biochemistry, microbiology, toxicology, even psychology. Do also explore all the related options including forensic science, nutrition and dietetics, food technology, epidemiology, sports physiology, biotechnology, public health, clinical research, yoga & fitness.
If you would like to combine computer science in your arsenal, then bioinformatics may an option worth considering. As for non-science options, the choice is huge ranging from Civil Services, teaching, hospitality, mass communication and law to just about anything else you fancy.
email your queries to careers@tribunemail.com
Top Stories