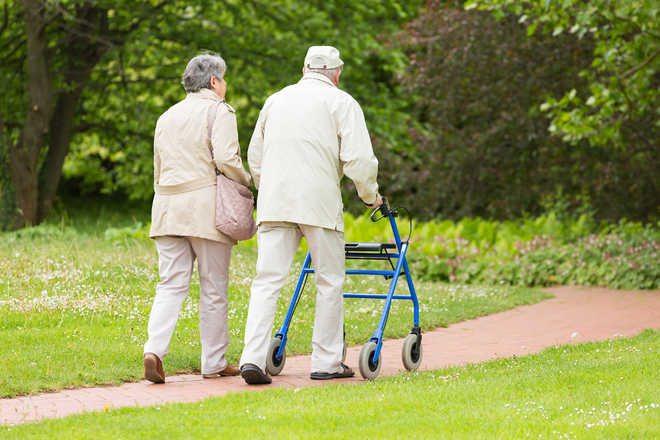 singhking99@yahoo.com
Dr Akhilesh Yadav
India is currently facing a knee ailments' epidemic. According to a recent study, more than 15 crore Indians suffer from knee-related problems like loss of cartilage, ACL tear (tear or sprain of the anterior cruciate ligament (ACL), a major knee ligament) and various types of age-related degenerative arthritis like osteoarthritis, rheumatoid arthritis and unicompartmental arthritis among many others. As the number of such cases rises, incidences of joint replacement surgeries have also seen an upsurge in the past five years.
Out of these 15 crore, more than 4 crore affected people need knee replacement surgery, as various knee ailments affect their quality of life and also impose a huge health burden on the country. According to the recent data provided by Joint Registry of the Indian Society of Hip and Knee Surgeons, more than 35,000 total knee replacement (TKR) surgeries were performed in India last year.
The data also shows that more than 75 per cent of the TKR surgeries were performed on women in the age bracket of 45 to 70 years. More than 33,000 cases (over 97 per cent) of TKR surgeries were attributed to osteoarthritis.
Most of the TKR surgeries are sustainable in more than 90 per cent of the cases and have a lifespan of around 15-20 years. However, over time the knee replacement can fail due to a variety of reasons. In such cases patients may require to undergo a revision TKR surgery (RTKR) due to increased swelling and painful knee joints. The patients may also feel stiffness and instability that may hinder their day-to-day activities.
Be careful after surgery
During a primary knee replacement surgery, the knee joint is replaced with an implant, which, in most of the cases, is successful. But sometimes due to loosening of the implants or their wear-out, a revision procedure may be required. Depending upon the condition, the revision surgery may include replacement of partial components of the implants, unicompartmental joint replacement or complete replacement.
In some cases, a trauma or an injury to the bone may make it harder for the surgeon to use standard implants during a revision surgery. In such cases, specially designed implants are required.
Be careful and avoid injury to the joints or adjacent areas. Take precautionary measures to ensure an enhanced lifespan of the implants and avoid the need for a revision knee replacement surgery. Patients with lifestyle ailments such as diabetes and hypertension should be specially careful post surgery. Diabetic patients are at elevated risk of developing infections even months after the surgery and hence the blood sugar should be monitored regularly.
By adopting these measures the lifespan of knee replacement implants may increase and result in long-term benefits.
Things to keep in mind
Some precautions that can enhance lifespan of the knee implants:
Maintain a healthy weight: Post surgery, reverting to unhealthy eating habits and a sedentary lifestyle can again cause weight gain. People who have undergone knee replacement surgery should eat a balanced diet along with regular mild exercises to maintain a healthy and normal weight.
Physical activity and regular exercise: Regular exercise is a must. However, any exercise should be undertaken under the advice of your doctor. Such patients are usually advised brisk walking or some basic leg-strengthening exercises. This not only helps in strengthening the muscles but also helps in proper settling and adjustment of the implants. Regular exercise will prolong the life of the implant. Some patients are advised physiotherapy sessions after the surgery that help strengthen their knee muscles.
Avoid sitting cross legged post surgery: Don't sit cross legged for a couple of months after the surgery. It is better to use a high chair for initial few months after the surgery as it will reduce the wear and tear, allowing the implants to settle better as per the curvature of the actual bone.
Regular walk: To decrease the chances of revision surgery, it is important to increase the pace of walking and distance after few months of surgery. At the end of two months, one should be able to walk 1-1.5 km per day. Slowly increase by 250 meters every month, till 3-km per day mark is achieved.
Yearly checkups: TKR surgery patients must have yearly checkups to keep a check on loosening in the joint which can be dealt with time.
— The writer is head, joint replacement (hip & knee), Centre for Knee and Hip Care, Ghaziabad
All readers are invited to post comments responsibly. Any messages with foul language or inciting hatred will be deleted. Comments with all capital letters will also be deleted. Readers are encouraged to flag the comments they feel are inappropriate. The views expressed in the Comments section are of the individuals writing the post. The Tribune does not endorse or support the views in these posts in any manner.
Top Stories