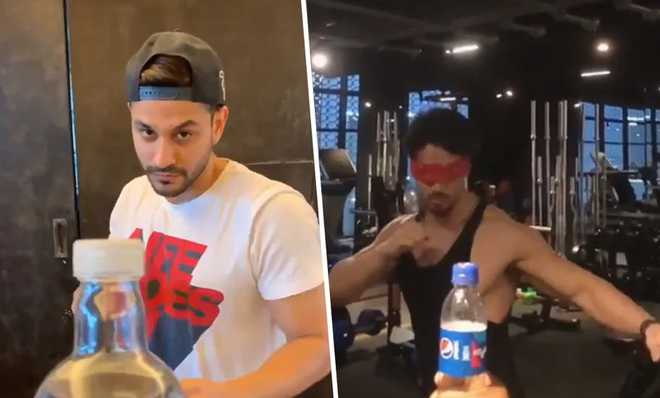 rajivbhatia82@gmail.com
Gaurav Kanthwal
The Internet is going crazy over the latest viral trend: the Bottle Cap Challenge. For the uninitiated, this challenge has people unscrewing a bottle cap by kicking it without letting the bottle fall. It's a martial arts dare, but largely for anyone who wants to become a hit on social media. So how exactly is it done: a loosely capped water bottle is kept on a waist-high platform. The aim is to dislodge the cap with a spinning kick — the tip of the toe hits just enough to unscrew and pop up the cap on impact. The catch is: the bottle should not fall. All this while a video records the act in slow motion. This martial arts dare requires flexibility and precision. If the control on a roundhouse kick is missing, it's virtually knocking down a plastic bottle endlessly.
Kazakh taekwondo exponent Farabi Davletchin is said to have started this stunt trend on June 25. The challenge became a hit after martial arts exponents like Max Holloway, Conor McGregor and Hollywood action hero Jason Statham aced the stunt and posted their videos on social media.
Not to be left behind, Bollywood stars like Akshay Kumar, Sushmita Sen, Tiger Shroff and Vidyut Jamwal accomplished the challenge with their own spin offs. Tiger Shroff took on the challenge blindfolded. "Well since everybody is showing off. Inspired by the great @donnieyenofficial! Yo@beyounick is this good enough? #bottlecapchallenge (sic)," reads his Instagram post. Similarly, Sushmita Sen, too, aced the stunt. She wrote, "Why should boys have all the fun! #bottlecapchallenge #superfun #familytime #dubai #challengeaccepted."
Akshay Kumar, too, could not resist joining in. "I couldn't resist #BottleCapChallenge. Inspired by my action idol #JasonStatham, I will repost/retweet the Best I see, Come on guys and girls, Get your bottle out and Your Legs in the Air, Let's Do This #FitIndia," the 51-year-old captioned his Instagram post.
Fitness gigs are, perhaps, the most popular trend of social media dares with countless versions appearing on it round the year. Of course, very few become a rage. Besides fun, what do these social media-fitness challenges achieve? Basically, they share individual achievements, provide satisfaction in small doses, daily. They can make a person instant celebrity and increase fan following.
Suraj Bhan, a fitness instructor with Talwalkars Gym, Mumbai, said, "These fitness challenges are an inspiration for youngsters. When it comes to fitness, peer pressure and indirect motivation play a major role in self-improvement."
Danger at every step
Shiggy, an Instagram performer, gave a spin to Drake's hit song and made it into InMyFeelings Challenge. A performer jumping out of a moving car and grooving on to hit song, the Kiki Challenge, became a rage among the young. So much was the craze for the challenge that the Delhi, Bengaluru and Hyderabad police had to issue press releases about the dangers of performing this gig. The Jaipur police even came out with a Facebook post asking people not to accept the challenge. This confirmed that the Kiki Challenge had gone viral…err berserk.
"Don't challenge death. Be wise — keep away from silly stunts and advise your friends to stay safe." The image accompanying the post said, "In loving memory of KK — Loving boyfriend of Kiki, died while doing the Shiggy." The cops soon realised they had gone overboard as the 30-year-old man in their warning picture Jawahar Subhash Chandra of Kochi was alive.
Pet peeves
Social media gigs have been presenting dares not only for people but for their pets as well. WhatTheFluff Challenge saw videos of bewildered dogs, cats and other pets all over the Internet. The videos captured surprised expressions of pets after their loving owners vanished suddenly in front of their eyes. The trick is to hold a sheet in front of the pet. As it looks on, the sheet is dropped, but the trickster runs away before the cloth comes down, leaving the pet in a state of confusion.
Just for fun
The 2018 FIFA World Cup saw a meme fest following Brazilian footballer Neymar's antics on the field. Within no time, his act transformed into a social media challenge where hundreds of participants rolled on the ground together. Children world over did it on their school grounds. Almost everyone seemed to have attempted this rolling challenge, including many elderly people. Seeing its popularity, the ace footballer too joined in the challenge. Shortlived as these are, social media challenges are a way to find acceptance and build connections — what better way than mimicry.
---
Many new Cultures
These viral challenges are today's art forms and cultural artefacts. Some of them employ high-end choreography as well. Take for example, the Matilda challenge. It takes one from the realm of physics to metaphysics. Performed on the Thurston Harris song Little Bitty Pretty One, it is an imaginative challenge which requires participants to give a spin on a scene from the movie Matilda where the little girl discovers that she possesses telekinesis — the ability to move objects using her mind. Moneyspinners make money through hits, singers promote their new music
as a tag-along with the videos. The Mannequin Challenge, in which a group of people remain still, had Rae Sremmurd song Black Beatles. Mistake these challenges not for little acts for instant gratification though. Some of these social media challenges have catered to social causes as well. Take, for instance, the Ice Bucket Challenge. Over a period of four years, the challenge, wherein people pour a bucket of ice cold water over themselves, has raised nearly $115million to create awareness about the amyotrophic lateral sclerosis (ALS) disease. Nearly 17 million people took part in the #IceBucketChallenge. The gig encouraged donations to fund research on the disease.
---
Numbers that matter
19 million hashtag mentions for the ALS Ice Bucket Challenge from July to August 2014.
15 million mentions for Kylie Jenner Challenge (involving sucking the air from a shot glass to create Kylie Jenner-like pout) in April and May 2015.
6.2 million hashtag mentions for Kiki Challenge from 1 June to 31 August 2018. This is nearly two million mentions per month.
2.5 million hashtag clocked by #10Year Challenge on internet in January 2019 as celebrities and social media users posted current and past pictures of themselves.
All readers are invited to post comments responsibly. Any messages with foul language or inciting hatred will be deleted. Comments with all capital letters will also be deleted. Readers are encouraged to flag the comments they feel are inappropriate. The views expressed in the Comments section are of the individuals writing the post. The Tribune does not endorse or support the views in these posts in any manner.