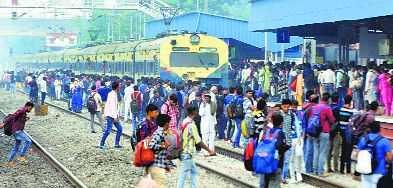 ROBINSINGH@TRIBUNE.COM
Sushil Manav
Tribune News Service
Chandigarh, November 12
Unemployment in Haryana is forcing educated youth to opt for Class IV posts of peon, gardener and beldar, as is evident from the 18 lakh applicants for the 18,216 Group D posts.
Nearly 9 lakh candidates appeared in the written test conducted by the Haryana Services Selection Commission (HSSC) in 11 districts on November 10 and 11 and an equal number will take the test on November 17 and 18.
The Tribune spoke to some candidates. Amit Kumar, Bachelor of Education (BEd) with a masters degree in Sanskrit, said he was working with a private school on a salary of Rs 5,000. "Ten years after doing BEd, I have not been able to find a job in a government school. Whereas science teachers in private schools are paid Rs 10,000 per month, the minimum salary of a peon is Rs 20,000," he pointed out.
Deepak Puri, with Masters in Mass Communication, has been working in a small newspaper in Sirsa.
"Not only me, even those who have cleared the National Eligibility Test for teaching in colleges and universities, are appearing for Group D posts.
Once we get a government job, there is a chance that we will be promoted to the next post in due course," he contends.
Sandeep Brar, with a masters degree in sociology, was evasive. "Why do you want to know? It is nobody's business as to which job I opt for", he remarked. State Labour and Employment Minister Nayab Singh Saini blamed successive Congress governments. "The Congress, which ruled the state for more than 40 years, ignored the youth. In the four years of the BJP rule, we have advertised 50,000 posts. Of these, 28000 posts have been filled. We are bringing new industry which will help 1 lakh youths get jobs."