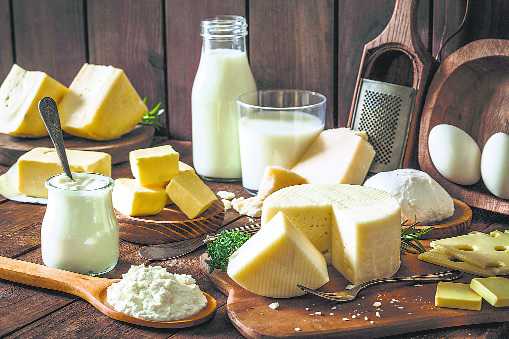 singhking99@yahoo.com
Puneetinder Kaur Sidhu
A wrong turn in a remote district of Arunachal Pradesh last year found us foisting ourselves on the local law enforcement officer for lunch. He turned out to be a fellow Punjabi, closing in on the end of his three-year term, and looking forward to it. I was more than amused at the reason. He couldn't wait to return to the land of plentiful dhudh, ghee and makhan. Apart from underscoring a stereotype, his lament reinforced the near absence of milk and its byproducts as a staple in northeastern cuisine. An omission unimaginable for a people reared on full-bodied gallons of the stuff.
India is the largest producer of milk in the world, but it is not uniformly consumed in the country. Punjab leads in per capita availability, followed by Haryana, Rajasthan and Gujarat, all of whom collectively accord northwest India the status of highest milk-producing, and guzzling, region of the country. This is not a new phenomenon, merely an empirical continuity since the Indus Valley Civilisation, when pastoral nomads and their cattle roamed this region. Sahiwal, a settlement near the archaeological sites of Harappa, is still synonymous with the best in their class of zebu or humped cattle, on both sides of the border. Coveted for its excellent yield and heat tolerance, it has found takers in cattle-rearing farms in Asia, Australia, Africa and the Caribbean.
With the appearance of the Indo-Aryans around the second millennium BCE, dairy began essaying a more enhanced role in food customs. Cow and buffalo milk was consumed raw or boiled, as yoghurt, and in porridge form, cooked with barley. They learnt that churning yoghurt resulted in butter and buttermilk, and the former, when heated, turned into ghee. The cornerstone of several Indian cuisines today, ghee is one of five foods hailed as panchamrit, an Ayurvedic preparation. This mixture of honey, jaggery, cow milk, ghee and yoghurt has been used for worship since Vedic times. In the southern parts of India, especially Tamil Nadu and Kerala, it is offered as prasad and includes bananas and coconut.
That the Northeast gleans much of its protein from eggs, meat and an abundance of freshwater fish could also be a genetic consequence, the inability to digest milk. This characteristic also is evident in South India, where while products like yoghurt made with live bacterial cultures are consumed regularly, nearly 70 per cent of the people are lactose-intolerant. On the other hand, North and West India display high levels of lactose tolerance as compared to the rest of the country. There was, however, a time when this region was dairy-deficient and required a three-decade long 'white revolution' to become the largest producer globally. This turnaround is widely credited to the late Verghese Kurian, a visionary and founder of Amul, the path-breaking dairy farmers co-operative that decimated trade cartels, and ended years of exploitation by middlemen. His birth anniversary on November 26 is celebrated as National Milk Day.
All readers are invited to post comments responsibly. Any messages with foul language or inciting hatred will be deleted. Comments with all capital letters will also be deleted. Readers are encouraged to flag the comments they feel are inappropriate. The views expressed in the Comments section are of the individuals writing the post. The Tribune does not endorse or support the views in these posts in any manner.