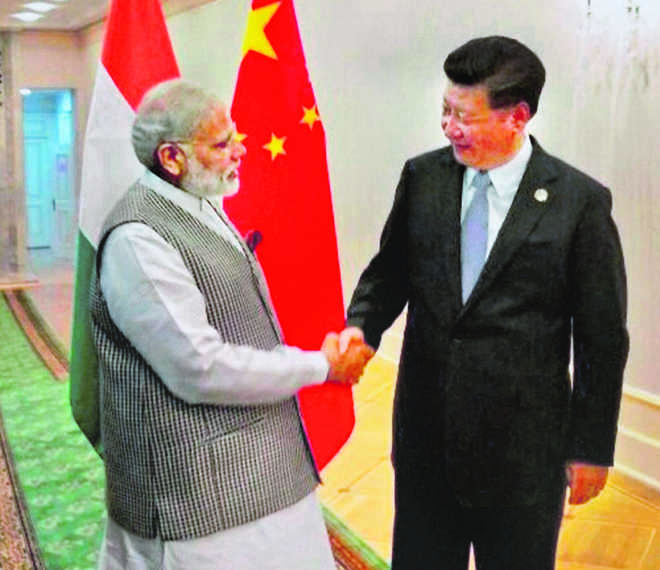 MK Bhadrakumar
THIRTY-SEVEN days remain for India to be a full member of the Shanghai Cooperation Organisation (SCO). The meeting of the SCO Council of Foreign Ministers in Astana — on April 21 — brought to a successful conclusion the procedural formalities in regard of the admission of the grouping's two new members from South Asia — India and Pakistan. However, there is no trace of momentous anticipation in the Indian capital. This is not really surprising.
To borrow the famous passage from TS Eliot's poem, The Hollow Men, "Between the idea/And the reality/ Between the motion/And the act/ Falls the Shadow." Indeed, between India's application for SCO membership in 2014 and the group's forthcoming summit meeting on June 8-9, 2017, in Astana, some mysterious shadow has fallen. The shadow falls like an iron curtain to block the original intentions.
Most certainly, the original intentions were thoughtful and purposive and were forged unhurried, incrementally and with great deliberation through almost half a decade by the previous UPA government. How far External Affairs Minister Sushma Swaraj was confident that Prime Minister Modi subscribed to those intentions, when she was called upon to formally submit India's membership application at the Dushanbe summit of the group in 2014, we do not know. In all probability, she fulfilled her responsibility as India's top diplomat.
For, 18 days later, Modi visited the White House to hold his first meeting with the then US President Barack Obama. Future historians would chronicle that the four-month period from that point in end-September 2014 to end-January 2015, when Obama visited India, became a defining moment in India's foreign policy trajectory, as it began careering away in a new direction historically. The January 2015 joint vision statement regarding the Asia-Pacific region proclaimed that India was willing to bandwagon with the US' pivot to Asia. Since then, India-China relations have been on a downhill slope. Beijing now says that Indian policies caused "serious damage to China's interests and China-India relations".
Meanwhile, New Delhi has been out of sync with the profound realignments unfolding in the Eurasian continent, triggered by the US-backed "regime change" in Ukraine in February 2014. An unprecedented level of coordination between Russia, China and Iran has appeared over time on issues affecting the future of the Eurasian continent, ranging from the threat posed by radical Islamist groups to energy cooperation and connectivity to China's One-Belt One-Road initiative. It is against this tumultuous backdrop that Russia and China are keenly promoting Iran's induction into the SCO.
What emerges is that the trajectories of Indian foreign policies and leading trends in the Eurasian continent are sharply diverging. The nascent integration of Pakistan as a Eurasian partner highlights it. The China-Pakistan Economic Corridor is a game-changing project for the geopolitics of the Eurasian continent. China will most certainly bring the CPEC to the forefront of the SCO as a cornerstone of regional security and a locomotive of the multipolarity in politics. Russia and Iran will partake of it.
India's SCO membership cannot be delinked from this ongoing global rebalancing that appears simultaneously on different templates — New Cold War, Sino-American tensions, Russia-China entente, Russia-Pakistan "thaw", and so on. Put plainly, SCO membership compels India to shed its strategic ambivalence. It is apparent that Washington and Moscow view differently the international order and its fundamental norms and rules and their own place in it. In this climate, where does India stand, which has turned its back on non-alignment and "strategic autonomy" as archaic concepts and entered into a quasi-alliance with the US?
Last Wednesday at a Kremlin meeting, a top functionary from the Chinese Communist Party relayed the following message from Chinese President Xi Jinping to President Vladimir Putin: "Chinese-Russian relations are going through their best ever in our history. Today, our relations are deservedly called an example of relations between great powers, characterised by cooperation and mutual benefit. Today, our relations are very solid, mature, and are distinguished by strategic cooperation and a lasting nature…
"Despite the serious changes in the international situation, we will continue to work with you unfailingly adhering to three constants, namely: regardless of the circumstances, we will not change our policy of deepening and developing our strategic partnership and cooperation; our policy, based on joint development and prosperity, will not change; and our joint efforts to defend peace and justice and promote cooperation in the world will not change."
Again, the Russia-led regional initiative on Afghanistan is in effect an enterprise comprising SCO member countries. Pakistan, which is a key player, is central to its success. India, on the other hand, feels comfortable with the US' lead role in Afghanistan. The moment of truth arrives when India's campaign on terrorism issues directed against Pakistan falls on deaf ears among other SCO members.
The bottom line is: Does India really belong to the SCO? Unless there is a serious rethink on India's foreign policy, it may end up as a passive onlooker within the SCO tent, or worse still, a drag on the grouping's functioning. Of course, SCO can be a really useful platform since it provides a canopy under which India can repair the damage caused to the relations with China and impart predictability to its ties with Pakistan.
Just look at the seamless possibilities of uninterruptible interaction with China and Pakistan at the level of the head of state, head of government, foreign minister, economic ministers, national security adviser, security agencies and so on annually. There have been a number of joint SCO military exercises, too, which bring together army chiefs. It doesn't need much ingenuity to understand what a splendid opportunity these occasions provide for India to build trust and mutual confidence with China and Pakistan at the level of political leadership as well as at the military-to-military level and between spy agencies and diplomats.
But then, is there serious will on the part of the Modi government to sustain a strategic dialogue with China and/or Pakistan? The opinion makers associated with the RSS-backed think tanks in Delhi are breathing fire and brimstone at China and Pakistan. Jingoism and communal polarisation enjoy primacy in the Sangh Parivar's toolbox and tensions in India's China-Pakistan ties easily feed into it. Therefore, it is in doubt whether the Modi government would revert to independent foreign policies even if it wants to. Paradoxically, although the US-Indian "defining partnership" is fast becoming an open cage in the Trump era, India seems to have lost the desire to head off into the wide blue yonder.
The writer is a former ambassador