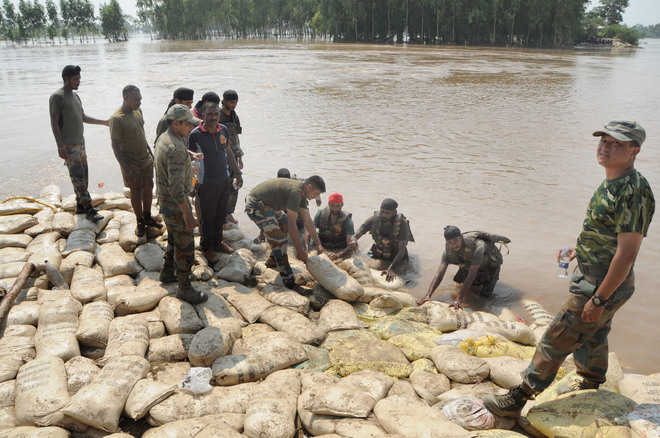 editorial@tribune.com
Aparna Banerji
Tribune News Service
Chak Wadala/Janian Chahal (Lohian), August 23
With no let-up in 21 Shahkot villages after floods, MLA Hardev Singh Laddi has issued instructions to get in sandbags to fix the bundh breach in Janian Chahal village — the widest and most sensitive breach in Jalandhar district.
Thousands of villagers flooded the bundh with sandbags from their respective areas. The breach, which is 45-50 feet deep and 150 metre wide, has cut off the affected villages from the rest of Shahkot as well as Sultanpur Lodhi where many students had been going to study.
At least 30 Army personnel and hundreds of villagers have been working on the bundh repair.
Earlier, crowded with langar and supply trolleys, Janian Chahal village had turned into a traffic worry with the DC appealing to people to stop pooling in ration at the bundh.
Sukhwinder Singh Soni of Gatti Peer Baksh village said: "The SDM has instructed us to bring in sandbags. The plugging of the breach is imperative for the safety of these as well as all neighbouring villages." From Sultanpur Lodhi, followers of Balbir Singh Seechewal have been bringing in vehicles loaded with sandbags.
Major NP Singh, in charge of Army operations, said: "We have been here for three days. The breach is still very deep. We have secured over 60 soldiers (each) at both ends of the bundh, plus the locals. A contractor is storing all sacks at a store here. We measured the water depth at 45 feet and length of the breach is 150 metre. It's not so easy to plug it in a limited time. It will depend on the sand stock and number of labourers. It may take more than two weeks."
MP Chaudhary Santokh Singh said: "The MLA has motivated local panchayats to contribute raw material. Our priority is to strengthen the dhussi bundh. Work is on at war footing."
---
Dhussi bundh
45-50 ft deep & 150 m wide
2 weeks required to plug it
120 soldiers deployed at both ends
---
Fodder shortage hits cattle
Along with the losses suffered by people, volunteers and relief workers on ground have pointed out the shortage of fodder for cattle.
Farmers are having a tough time fetching fodder for their cattle and they refuse to leave them behind.
Medicines for animals are, however, available in most of the affected villages in Lohian.
Top Stories