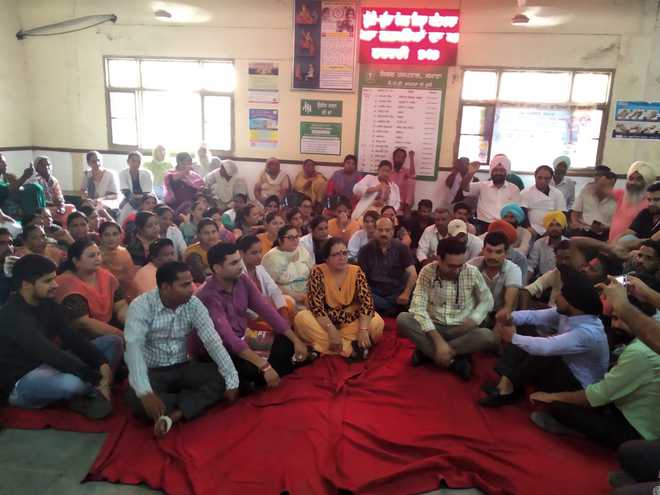 amansharma@tribunemail.com
Karam Prakash
Tribune News Service
Patiala, September 11
A drug addict allegedly brandished a knife and tried to assault a staff nurse at the Out-Patient Opioid Assisted Treatment (OOAT) Clinic of the Samana Civil Hospital on Wednesday.
Panic gripped doctors and staff nurses when the drug addict ---who had come to take the drug at OOAT --- misbehaved with clinic-staff and brandished a knife when he was reportedly asked to wait for his turn.
He was overpowered by other patients.
The hospital authorities have identified him as Sanju Kumar of a village in Patran town of the district. Notably, in the OOAT clinics, the drugs addicts are given medicines which are to be consumed on the spot only. Following the incident, the hospital staff went on strike and closed the OPD.
The staff staged a sit-in at the hospital itself --- demanding safe working environment.
Staff nurse Kanwal, who was allegedly threatened by the addict said, "There were around 200 addicts who were standing in queue. However, he (attacker) threatened me to give him the medicine out of turn. When I refused, he took out a knife and tried to attack me."
Doctors demanded that a permanent police post should be set up for the safety of staff and patients. There is no security guard at the hospital. Class IV employees are tasked with the job.
A doctor at the hospital, pleading anonymity, said, "Staff at OOAT clinics are always at risk of being attacked by addicts. There should be permanent security personnel at OOAT."
Senior Medical Officer, Samana Civil Hospital, Dr Rajpal Singh, said, "We have already demanded a police post at the hospital. Police have assured permanent police personnel at OOAT Clinic during OPD hours."
In the past, an addict had stolen drugs worth lakhs of rupees from an OOAT clinic at Government Rajindra Hospital.
Nurse locked
A staff nurse was locked inside the labour ward, allegedly by 10 unknown persons on the intervening night of Tuesday and Wednesday .
Station House Officer, Samana city, said, "We have not been able to arrest the accused but investigations are under way."