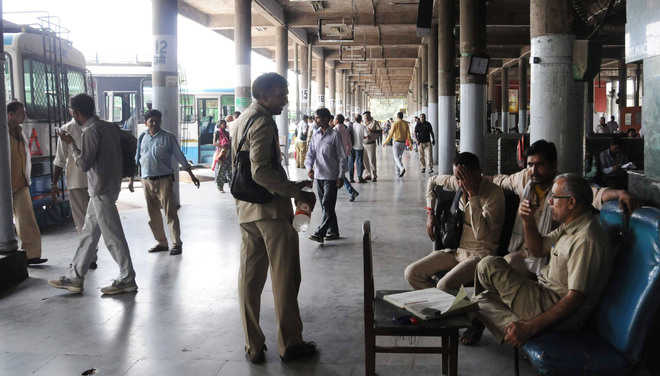 editorial@tribune.com
SANDEEP SINHA
A frequent traveller gets to see the mood of a city at all hours of the day. It not just profiles the city but also helps to understand and come to grips with it. Commuting on the road leading to the station, you can easily make out that it is time for the Shatabdi to leave, going by the number of cars on the road.
The same is not the case at night when say the Kalka Express departs. At the Sector-17 bus stand, the buzz starts in the early hours of the day with buses leaving for their destinations—both inside the city and outside. It is not like this late into the night as the place falls silent but there is life all around it with many tea stalls and eating joints catering to passengers waiting for the daybreak or students out on a nocturnal foray.
Amid all this, the Tribune Chowk serves as a constant, where you can always be a traveller, boarding a bus leaving for your destination. The place is the city's pulsating artery linking it with the outside world. The Sector-43 bus stand has served to decongest the city and caters to buses leaving for different destinations, also providing in the process a glimpse into the cultural mélange that a city is.
At the Jaipur railway station once, a lady constable was trying to control a queue of passengers trying to board a train, "Arre Bandra, Arre Worli.." To the uninitiated, it was obvious that the train was leaving for Bombay. The same holds true for Chandigarh. The accent and the physical appearance of the drivers and conductors is a moniker more than the name of the state roadways written on the buses. For long, used to travelling in PRTC and PUNBUS buses, used to watching humorous Punjabi films on board, the change in accent is quite discernible when you are on a bus belonging to the other state roadways. "Bhai, gadi mein baith ja," the conductor says and you know it is the Haryana Roadways. The dilemma for me is that despite being from a Hindi-speaking state, I find returning to it quite a challenge after the long sojourn in this part of the country. It sounds so familiar and so comforting, and yet it sounds so very unusual. Earlier, whenever my train would cross Jakhal and enter Punjab, my heart would sink at the linguistic and cultural dissimilarity. Over the years, it has become the new normal, so much so that once in Haridwar, undecided on where to eat, I headed for a Punjabi eatery because I knew what would be on the platter. Not just this, long back once in Hyderabad, I found a Punjabi eating joint near the railway station. It was not just about culture but more about, "When in doubt, seek it out." In Delhi, the rush of people from the eastern states is all too visible. Culture is the basic building block on which rests our identity. But there should be no ethnocentric approach but more like what Gandhi said about preventing cultural isolation—not to let the house be walled on all sides and windows to be stuffed. Culture of all lands should blow about the house freely."