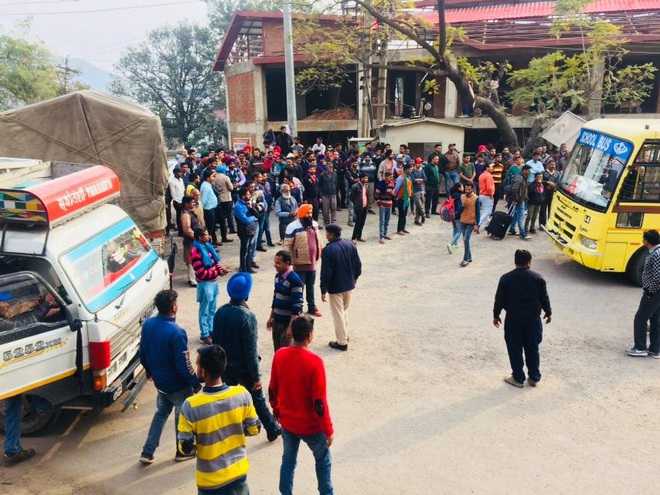 editorial@tribune.com
Ambika Sharma
Tribune News Service
Solan, February 11
Tension gripped Parwanoo this afternoon following violent clashes between the rival factions of truck unions, leaving a person injured. The protesters also blocked Kasauli Chowk, disrupting traffic on the highway.
Trouble started when Pawan Kumar, a member of the Hardeep Bawa group, was beaten up in Hanuman Gali where he was taking tea, by four persons of the rival group.
Pawan alleged that he was severely beaten up and dragged by them and one of them also fired on the ground to intimidate him.
The members of the Bawa group in retaliation ransacked the office of the rival Amarnath Sharma group located nearby. They also parked a truck in the middle of Kasauli Chowk and obstructed the traffic movement on the state highway.
Additional Superintendent of Police Shiv Kumar Sharma, however, said no empty cartridge was recovered from the spot and the allegations of firing were yet to be verified.
With tension gripping the town, the police rushed in two reserves and two more were requisitioned to maintain law and order.
The situation escalated again around 6:15 pm as another clash took place later between them at the chowk. Hardeep Bawa and his group members were sitting on a dharna after blocking the road, demanding the arrest of the attackers. A group of rival members armed with rods and swords descended on the spot and allegedly fired in the air to disperse the protesters.
They ransacked the vehicles parked by the rivals to block the road.
As the protesters ran helter skelter to save themselves from the attacking mob, some people sustained injuries. The injured was rushed to the ESI Hospital.
SP, Solan, Madhusudan Sharma said the police were on the lookout for miscreants responsible for the clash where one person had been injured. He said the situation was under control. The number of injured could be more.
The Additional SP rushed to Parwanoo as tension persisted. With the transport groups vying to take control over other unions, several such clashes have taken place in the last 10 months. There were 400 trucks and an equal number of canters and 350 Pik-up vehicles in this industrial town.
Parwanoo showdown
June 13, 2018: Seven persons injured in a clash
Sept 27: Hardeep Bawa, who heads a group, was attacked by rivals
Jan 12, 2019: A clash took place injurying members of both groups
Top Stories