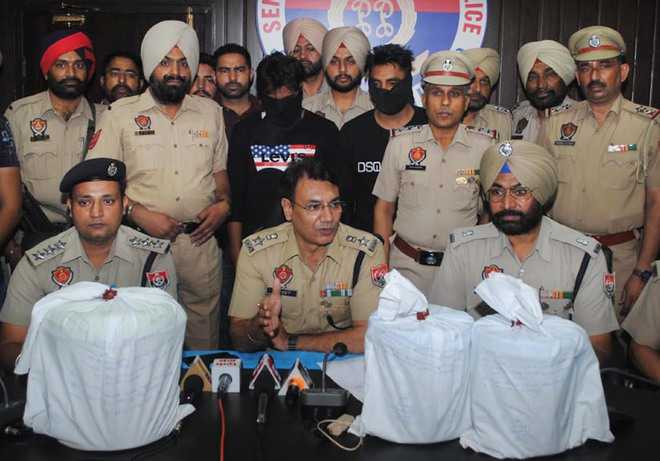 editorial@tribune.com
Tribune News Service
Jalandhar, July 14
The Jalandhar police arrested two persons and recovered 16 kg of opium from them at Mallian village of Kartarpur.
The accused have been identified as Punjab Singh (25) and Daljit Singh (25), both residents of Patti Palla, Budala village, Beas, Amritsar.
Talking to the media on Sunday, Jalandhar Senior Superintendent of Police (SSP) Navjot Singh Mahal said the duo was arrested from a naka laid in Mallian village on Saturday evening. He said the police spotted a white-coloured I-20 car coming at a high speed. "On being intercepted the car driver tried to speed away, but couldn't escape due to the barricades."
"On search, three packets of opium (each weighing 1 kg) were found from them. Also, 10 kg of opium, five packets weighing 1 kg each, were also found concealed in the two rear doors of the car. They had even concealed three packets each in their belts and under their shirts," the SSP added.
A case under Sections 18, 25, 61 and 85 of the Narcotic Drugs and Psychotropic Substances Act was registered against them at the Kartarpur police station. The police said a thorough probe in the matter was being conducted and more revelations were expected.
The SSP said Punjab Singh was the son of slain Inder Singh, who was an arch rival of Ajit Singh Poohla, a self-proclaimed jathedar of the Tarna Dal.
Top Stories