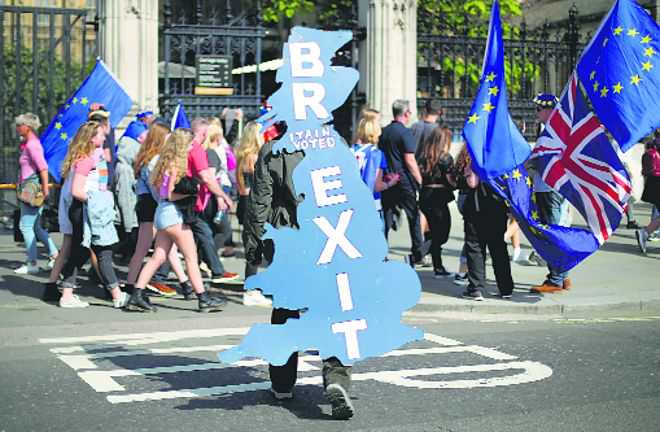 sanjiv@tribunemail.com
London, September 11
Boris Johnson's decision to suspend Parliament for five weeks was unlawful and should be annulled, Scotland's highest court of appeal ruled on Wednesday in a damning verdict on the British Prime Minister's reasons for the shutdown.
Parliament was prorogued - suspended - on Monday until October 14, a move opponents argued was designed to thwart their attempts to scrutinise his plans for leaving the European Union and allow him to push through a no-deal Brexit on October 31.
"You cannot break the law with impunity, Boris Johnson," said Joanna Cherry, the Scottish National Party lawmaker who led the challenge. "We are calling for Parliament to be recalled immediately," she said after the unanimous verdict by three judges at Scotland's Court of Session.
Johnson's office said the government would appeal to the Supreme Court, the highest judicial body in the UK. It was not immediately clear what effect the ruling would have. A government official said Johnson believed Parliament remained suspended pending a ruling by the SC.
Johnson announced on August 28 that Parliament would be prorogued, saying the government wanted the suspension so it could then launch a new legislative agenda. Opponents said the real reason was to shut down debate and challenges to his Brexit plans.
"The UK government needs to bring forward a strong domestic legislative agenda," a government spokesman said in response to Wednesday's ruling. "Proroguing Parliament is the legal and necessary way of delivering this."
However, the Scottish judges ruled the principal reason for suspension was to stymie lawmakers and allow Johnson to pursue a no-deal Brexit policy. "This was an egregious case of a clear failure to comply with generally accepted standards of behaviour of public authorities," concluded Philip Brodie, one of the judges.
Judge James Drummond Young had determined that "the only inference that could be drawn was that the UK government and the PM wished to restrict Parliament". "The court will accordingly make an Order declaring that the PM's advice to the Queen and the prorogation which followed thereon was unlawful and is thus null and of no effect." Buckingham Palace declined to comment on the ruling, saying it was a matter for the government. — Reuters
What does Proroguing House mean...
When Parliament is prorogued, no debates and votes are held — and most laws that haven't completed their passage through Parliament die a death. This is different to "dissolving" Parliament — where all MPs give up their seats to campaign in a general election.
Johnson's no to Farage offer
PM Boris Johnson on Wednesday ruled out an electoral pact with Nigel Farage's Brexit Party, which had warned that the Conservatives would take a "real kicking" in an election if Brexit was not a clean break from the EU
While Parliament has so far blocked two of Johnson's requests for an election, Farage said it was clear that there would be one soon and that traditional party loyalties to Conservative and Labour had changed due to Brexit
"If we go beyond the Oct 31 deadline and we are still a member of the EU — which looks increasingly likely — then a lot of votes will shift from the Conservative Party to the Brexit Party," Farage said. "I would consider a pact with Johnson's Conservatives ahead of a possible election if Johnson agreed to press for a 'clean break' Brexit"
Johnson's political spokesman said: "The PM will not be doing a deal with Nigel Farage." A senior Conservative Party source added that Farage was not a "fit and proper" person and should not be allowed anywhere near government
Cities