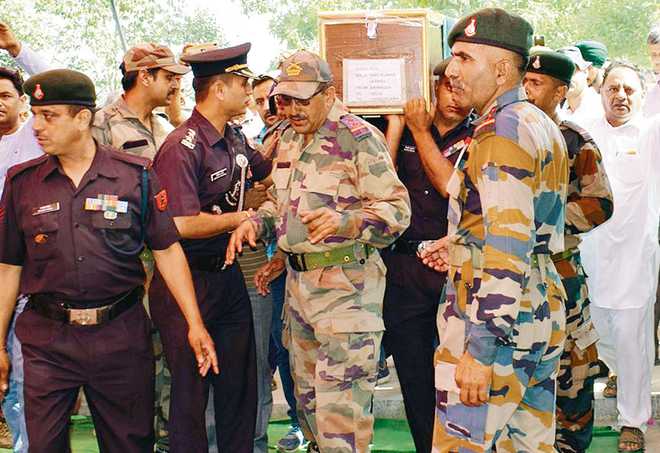 editorial@tribune.com
r Correspondent
Una, June 19
The mortal remains of Rifleman Anil Kumar Jaswal, who died fighting militants in Anantnag district of Jammu and Kashmir, were consigned to flames at his native village Saroh in Bangana subdivision today.
The encounter took place on Monday. Jaswal succumbed to his injuries at the Army hospital on Tuesday morning.
The body was flown in to the Air Force base in Chandigarh from where it was taken in an Army vehicle to the soldier's ancestral house. It was kept at the house for some time for family members and relatives to perform the rituals.
The soldier's mother, wife and sister were inconsolable. His wife Shweta kept calling Anil Kumar to wake up, while sister Sapna demanded revenge, saying the Army should kill those who killed her brother.
Draped in the Tricolour, Army personnel later carried the martyr's body to the cremation ground, where wreaths were placed by Rural Development Minister Virender Kanwar, Deputy Commissioner Sandeep Kumar and Army officials.
The atmosphere remained charged as youths chanted 'Anil Kumar amar rahe' and 'Vande Mataram', besides raising slogans against Pakistan.
The soldier was accorded full military and state honour as a posse of Army men fired in the air before the last bugle was blown in respect of the slain soldier.
His five-month-old son Varun's hands were made to touch the bamboo stick which was later used to lit the pyre. Anil's cousin Sandeep Jaswal performed the last rites.
The slain soldier's father, Ashok Kumar, had also served in the Army. He said Anil was a third generation Army man in the family. Ashok Kumar said he would inspire his grandson too to join the Army like his father. "Our close combat weapons have failed to match the new challenges", he said, adding that he was sure that PM Narendra Modi would do the needful to provide advanced weapons to jawans to save their precious lives.
Virender Kanwar assured all help and assistance from the state government to the family and presented a cheque for Rs 5 lakh. As per the norms, the family would be given an assistance of Rs 20 lakh, besides a government job to one member.
Vice-Chairman of the HP Industries Corporation Ram Kumar was also present.