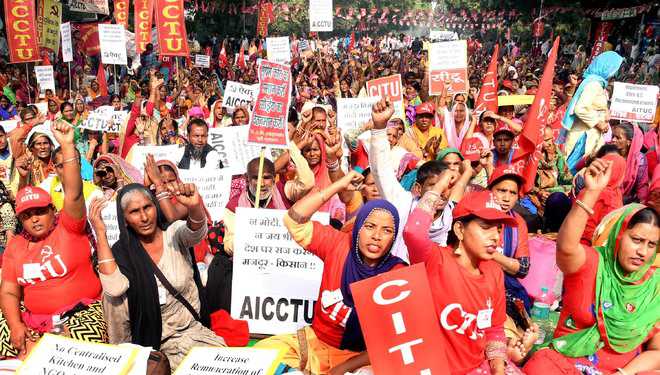 editorial@tribune.com
Ravi S Singh
Tribune News Service
New Delhi, November 19
Kulwinder Kaur from Punjab was one of the thousands of mid-day meal scheme workers from across the country who attended a rally here on Monday to protest against the alleged apathy of the Union and the state governments towards their welfare.
The protesters demanded Rs 18,000 per month as remuneration against less than Rs 2,000 per month they get on an average. Also, they want that the workers must be recognised as Class IV school employees.
Kulwinder, who has been working with Government High School (Jumla Malkan) in Barnala district for more than three years, alleged that apart from poor wages, she was forced to do personal works of the school staff like preparing their tea and warming their food etc.
"My husband is a farm labourer due to which the family income is erratic," she said, adding that even the little wages she got were not paid regularly.
Manjit Kaur, another worker from a government school at Badaur village in Barnala, narrated similar woes.
The Centrally sponsored scheme was launched on August 15, 1995, and is the world's largest social welfare programme. More than 20 lakh workers (98 per cent women) are employed under it.
Shimla Devi, a worker at Government Primary School, Udana in Karnal district of Haryana, too, was part of the protest. Although the state provides comparatively higher wages (Rs 3,500 per month), she and her colleagues alleged that they had not been paid for eight months.
The workers demanded that they should be employed throughout the year instead of 10 months. The rally was organised by several unions and Left-leaning organisations.
Top Stories