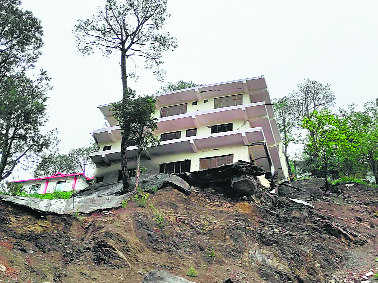 editorial@tribune.com
Tribune News Service
Solan, July 17
Having learnt a lesson from the building collapse incident near Kumarhatti which left 14 people dead, SDM Solan today ordered demolition of a multi-storey building on the Kalka-Shimla National Highway-05 at Dharampur. The building was precariously perched on a hill whose base had been eroded in the ongoing rains.
Since the four-laning of the highway had led to excavation of the hill, the measures like raising breast walls, rock bolting and shotcreting the slope by applying a mixture of aggregate and Portland cement with a spray gun had failed to contain the erosion. These measures had been applied during the last one year. The building had developed cracks which were widening with each passing day. As a result, the building had been rendered inhabitable.
SDM Rohit Rathore said since the building faced the risk of giving way in the ongoing monsoons and it overlooked a petrol pump, it could endanger the human life and property. In a bid to avert any damage the decision to demolish it was taken today.
The project director, National Highways Authority of India, will assist in the operation along with the police to ensure that the general public was not inconvenienced nor traffic was put on hold. He said the award for this building has been announced and it was pending before the NHAI authorities. With a major chunk of the hill having been eroded, motorists plying on the highway below faced the risk of being exposed to the boulders and debris which rolled down regularly from the exposed slope.
Consent has also been obtained from the owner to demolish the building.