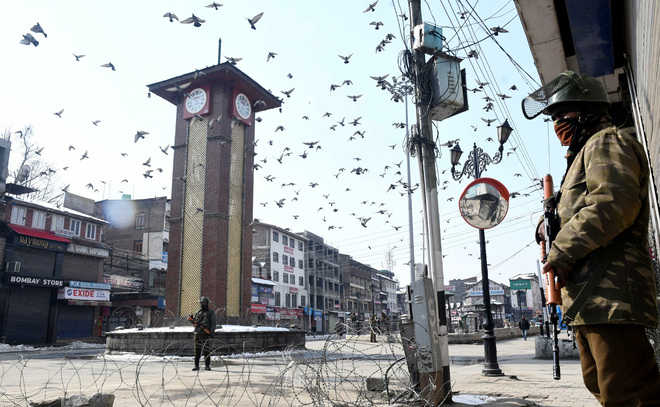 editorial@tribune.com
Tribune News Service
Srinagar, February 11
A shutdown called by separatists on the death anniversary of Jammu Kashmir Liberation Front founder Mohammad Maqbool Bhat affected life across the Valley on Monday.
Bhat was hanged in Tihar Jail on February 11, 1984, and was buried on the premises. In Srinagar, shops and business establishments were shut, while public transport was off the roads. Some private vehicles were seen plying on roads. The authorities had imposed restrictions in some parts of the city.
The police foiled a protest rally when activists of the joint resistance leadership tried to march towards Lal Chowk, Srinagar, demanding the return of the mortal remains of Maqbool Bhat and Afzal Guru, both of whom are buried in Tihar Jail.
A police official said there was no report of any untoward incident from any part of the Valley. There were reports of shutdown from other districts of the Valley. Meanwhile, Member of Parliament and Peoples Democratic Party leader Fayaz Mir on Monday wrote to Prime Minister Narendra Modi, requesting him to return the mortal remains of Bhat and Guru. "How can the bodies of two Kashmiri men, who lost their dignity in the gallows, be a threat to a democracy like India? Is the collective conscience of India sans the collective conscience of Kashmiris? I can with utmost responsibility say that should the Government of India decide to act upon this request, the animosity of Kashmiris and their sense of alienation can be brought down by several notches," the letter read.
Cities