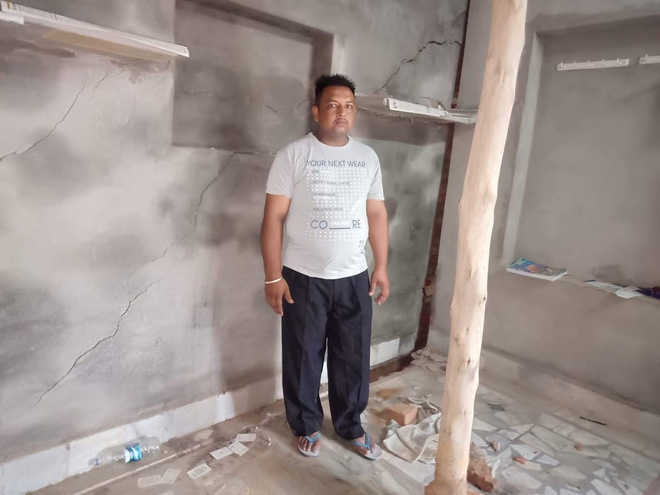 editorial@tribune.com
Tribune News Service
Bathinda, July 21
Heavy downpour early this week damaged many houses in different villages of the district. If walls of many houses collapsed in some villages, others developed cracks after rainwater seeped down into their foundation.
After the rain, problems of residents in many villages have aggravated as many houses have developed cracks. In slum areas of Mehma Sarja village, around six houses collapsed in the past five days. In Mehma Sarkari, houses of Hardwari Lal, a farmer, Gora Lal, a shopkeeper, and Pritam Singh, owner of a mechanical workshop, developed cracks in walls after rainwater remained accumulated around their houses on three consecutive days.
At Deon Khurd village, three adjoining houses developed wide cracks and water started seeping through the floors. Jasbir Singh's (39) house developed wide cracks and the floor caved in.
Jasbir Singh, who runs a tea and food vend in the market of the village, said, "I immediately brought a mason and used wooden support to check my house from crumbling down. The safety of my two small daughters is more important for me. The administration must assess the quantum of damage caused to houses due to heavy rain and must provide adequate compensation to the villagers as they would also have to face losses caused due to crop damage."
Next to Jasbir's house resides Paramjit Kaur, who is living alone with her daughter. She fears for her safety as their house has developed wide cracks after heavy rain. Reportedly, houses in Bhucho, Rampura and Nathana blocks also suffered minor to moderate damages, including wall collapse and cracks. Meanwhile, fearing for their safety, residents of some villages even have sent their children to their relatives' place in the city and even out of the district.
Hardwari Lal, a resident of Meha Sarkari, said, "We have to spend more than Rs 2 lakh to get the repair work done. Many houses in our area have got damaged due to rain. The government must provide relief fund and compensation for both crop and house damage."
In Kikkar Das Mohalla, the ceiling of a house came crashing down, though no casualty was reported. The owner of the house has demanded compensation from the government.
Cities