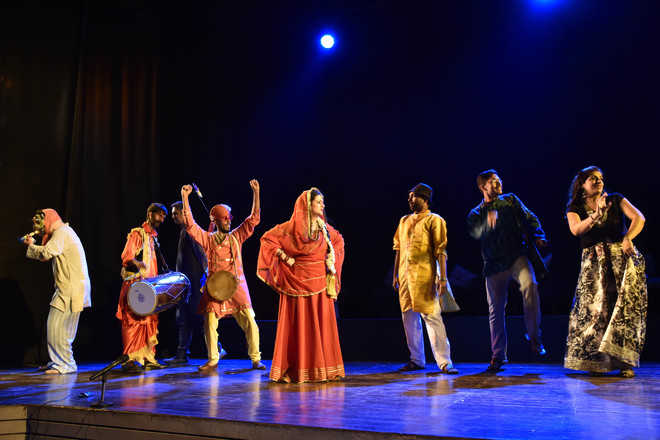 editorial@tribune.com
Rana Siddiqui Zaman
A theatre, a literature, an artistic expression that does not speak for its own time has no relevance, said Dario Fo, the Nobel Prize winner and the most widely performed contemporary playwright in world theatre.
So, what's the status of contemporary theatre in India? Is it speaking about contemporary issues, times, fantasies and aspirations? In a very interesting mix of people from the world of Indian theatre, we find out the state of contemporary theatre here.
Script doesn't change
Theatre can be largely divided into the government funded or institutional, contemporary and celebrity-driven (well, it is a new category). It excludes nautanki and other folk performances. In institutional theatre, no daring contemporary plays are being made. Just no one is writing plays on farmer suicides or mob lynching. And if one does write these stories, the organisers tone it down enough to rob it of its real essence. Not much can be expected from government-run akademies that see too much political interference.
Prof Danish Iqbal, known for writing dastangoi and Urdu plays on personalities like Allama Iqbal, is unforgiving when he says: "The state of contemporary dramas is bad. Literature barely has any connect with theatre. Punjabi plays have largely been loud and slapstick and Punjabi Academy doesn't have the guts to write daring plays. Hindi playwrights have no great ideas either as the great Hindi poets and writers never go to watch plays or involve in literary exchange with theatrewallahs. They are busy writing their own books."
"Same is the case with Urdu playwrights. Most of them have stopped doing plays. However, Marathi and Gujarati plays are flourishing because their authors and playwrights intermingle and newer ideas emerge," says the thespian who recently did hugely successful shows of Mahabharat in Urdu in Delhi/NCR.
In the last 25 years, theatre in bigger cities like Delhi and Mumbai has not seen much of a change. Most major directors have been capitalising on oft-repeated western plays and adaptations. "On the contrary, smaller cities like Aligarh and schools and colleges were doing more original plays from 1982-89 then in 1990s," says Sayeed Alam, founder of Pierrot's Troupe, also known for bringing Tom Alter back on stage with original English, Hindi and Urdu plays and musicals to repeat shows across the globe.
Though it is not a doomsday scenario for contemporary theatre, it always stands in sharp contrast with plays that Ebrahim Alkazi — doyen of modern theatre — and veterans like Habib Tanvir, Dharmveer Bharti and Girish Karnad brought on stage.
Veteran actor Anupam Kher feels the problem with contemporary theatre is lack of new writers. "I am not much in touch with Hindi plays as I have done only three plays in 30 years — Salgirah, based on an American play, Kuch Bhi Ho Sakta Hai, which was based on my autobiography and one with Rakesh Bedi, Mera Voh Matlab Nahi Tha. However, I have seen works of Dharmveer Bharti, Girish Karnad, Surender Verma, Habib saab, Mohan Rakesh and I am yet to see a parallel to Surya Ki Antim Kiran Se Surya Ki Pehli Kiran Tak, Andha Yug, Tughlaq and Aadhe Adhoore. These were life-changing plays."
Quantity matters
Sohaila Kapur, the big name in English plays in Delhi, however, has no complains. "A lot is happening in contemporary theatre now. Senior guards like Maya Rao, Anuradha Kapoor, Neelam Mansingh and MK Raina always bring in new and exciting topics. They do not just bring their own ideas, but are giving the people very powerful political plays. What can be more contemporary than that? New/amateur writers are doing a lot of work. However, I agree that none of it has yet been groundbreaking."
Nevertheless, she feels there is an explosion of contemporary theatre and credits the rising middle class for it. "It wants to see its issues being taken up. We have always lacked good writing skills and now that is changing too. Besides, the internet has brought to us information on best plays from across the globe. It has offered exposure to a whole new generation that now wants to try out newer ideas in its plays."
Interestingly, if a playwright like Arvind Gaur has a pattern of doing certain issue-based plays, which are largely akin to street plays, Saif Hyder Hasan has brought on stage an interesting way of storytelling through fading film actors. He brought on stage the love stories of Punjabi writer Amrita Pritam and Urdu poet Sahir Ludhianvi with Shekhar Suman and Deepti Naval and Geeta and Guru Dutt with Arif Zakaria and Sonali Kulkarni. Even as these plays elicited mixed response, Hasan has sailed through and is working on his new play, Devdas. Feroze Abbas Khan has already swept the audience off its feet with Mughal-e-Azam, and now larger-than-life Aladdin and Ali Baba Aur 40 Chor are soon to break new ground.
Suchitra Krishnamoorthi, actor, singer and playwright, would like to give some credit to corporates in theatre. "Contemporary theatre in Mumbai is improving with the involvement of corporate houses like Birla and Mahindra. Big musicals like Mughal-e-Azam, Sing India Sing, Devdas, etc. are changing the theatre viewing experience. Take my play Drama Queen for instance. There is a certain kind of audience for that kind of humour and an intellectual twist, so to say. All my shows went full house."
Experts would also like to laud the efforts being made towards making more socially relevant plays. Like Nadira Zahir Babbar's Sakku Bai. This solo play, which tells the story of a domestic help, is shouldered by Monika Mishra beautifully. Or Saurabh Shukla's Barf, which is about a childless couple; and Rakesh Bedi's Jab We Separated on a couple on the verge of a divorce. As Amal Allana, former director National School of Drama, rightly points out, "Theatre is in a new generation's hands now. They are no longer using old tools and methods to tell their stories. Contemporary theatre is evolving."
Tech tales
One of the significant changes in contemporary theatre is the use of technology in stage craft. It is cheap and readily available and must be adopted. A clever director fuses the real and virtual and leaves less scope for criticism. However, with issues like lack of auditoria having larger capacity, hike in ticket prices ( as high as Rs 15,000) and little patronage, theatre is still looking for bigger audiences as seen in plays starring filmstars. The economics of theatre is always on the low, and that is something everyone will agree with.
Top Stories