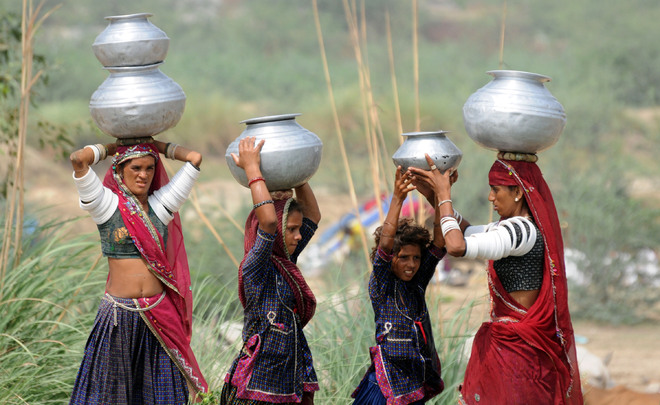 editorial@tribune.com
Tribune News Service
Chandigarh, May 31
Close on the heels of power shortage, Haryana residents are reeling under an acute shortage of water as mercury keeps rising each passing day. Besides villages, planned and approved colonies are facing water scarcity, forcing people to take to the streets. A lowdown on situation in districts:
Sewage-mixed water adds to woes
Sonepat: Nearly 10 localities on either side of the Rohtak road have been facing the problem of water for months. Whatever little water is supplied, it is polluted because of mixing of sewage with drinking water in pipelines.
The Bhanderi village panchayat has provided 5 acres for the construction of a water tank to ensure clean water supply, but the authorities concerned has not taken any step. "Villagers have raised the demand for the water tank at the CM Window, but to no avail. They fetch water from distant places," sarpanch Nirmala Devi said.
No relief in sight
Sirsa: With water level falling below 50 per cent in the three waterwork tanks of the town and closure of canals scheduled from June 1, residents fear an acute shortage of drinking water in the coming days. Drinking water has become scarce in several localities and the situation is likely to deteriorate in the days to come. Residents of Chattargarh Patti, Begu road and some other localities alleged the situation was worrisome and worse was yet to come.
Situation better in urban areas
Mahendragarh: The supply of water in urban areas is satisfactory, but villagers are bearing the brunt of water shortage in this scorching heat. The authorities have constructed water tanks at common places in a majority of villages where water is pumped through tubewells. "There are four tubewells in the village, but the supply of water is not sufficient because of steep fall in the groundwater," said Indraj Gandhi of Bhetanti village.
Solution by December
Faridabad: The city is getting only 200 million litres a day (MLD) against the demand for 300 MLD. "The problem is likely to be resolved by December as the work on the Rs 493-crore Rannewell project is underway on war footing," said Ashok Sharma, Commissioner, Municipal Corporation, Faridabad.
Power cuts worsening the situation
Kurukshetra: Except for power cuts when the supply of water is snapped, the situation in urban areas is satisfactory. But this can't be said about the situation in rural areas. Rajwant Singh of Khizarpura village said villagers had to wait till 1 pm for the supply of water. Ashok Kumar of Patiala Bank Colony said water supply was not an issue a few days back. "In the last one week, it has become a big problem as there have been prolonged power cuts," he said.
Low voltage adds to problem
Karnal: People of the district, particularly in remote areas, have been facing a crisis of drinking water. A schedule had been fixed for the supply of power and water. But thanks to long power cuts, supply of water is badly affected. Sometimes, the supply is affected because of low voltage. "The situation in villages has worsened as there's no time table for power cuts," said Ramesh Kumar of Gheer village.
Leakages in old pipes to blame
Ambala: The situation of water supply here is more or less satisfactory with 389 tubewells pumping out water for more than 10 hours every day. The Public Health Department which oversees supply of water claims 155 litres per capita per day (LCPD) of water was being supplied in urban areas and 40 LPCD to 70 LPCD of water was being supplied in the rural areas.
The tubewells are operated from 4 am to 8 am and from 4 pm till 8 pm. The problem arises due to leakages in pipes which are old in certain parts of urban areas. Funds have been approved to replace the pipes.
Forced to buy water for Rs300
Bhiwani: While summer at its peak, the authorities seem unprepared to tackle the growing demand for water and power. Residents of Ajitpura village on Wednesday marched to the Mini-Secretariat to apprise the authorities of the situation. Om Prakash, a shopkeeper from Dadri, said water did not reach tail-end colonies, forcing residents to buy water for Rs300 per tanker.
Waterworks locked in protest
Hisar: Residents of Masoodpur village in Narnaund block alleged they were not getting water supply for several days. "The waterworks is of no use to us. So we decided to lock it. We have been taking up our problem with the officials, but to no avail. Now, let them come to us," said Kuldeep Singh, a villager.
Distressed by official apathy
Jind: In a majority of villages in the district, groundwater is unfit for consumption. "Women have to fetch water from tubewells, 1 km from homes. Villagers have raising the demand for water from politicians, as they all make a fool of us. They have never taken any step to redress our problem," said Om Parkash, a farmer of Gatoli village.
City battles acute shortage
Rohtak: Residents of not only far-off and remote areas, but also of Salara Mohalla and Janta Colony located in the heart of the town and villages such as Baland and Bohar, located on the outskirts, are battling with the problem.
Two to three power cuts not helping matters
Panipat: Several areas of the city are facing shortage of water. Most of the localities do not get any supply without booster pumps, while several unauthorised colonies located on the outskirts of the city are affected as well. Nem Chand of Bishan Sarup Colony said his locality and surrounding areas were facing two to three power cuts ranging between one and three hours every day.