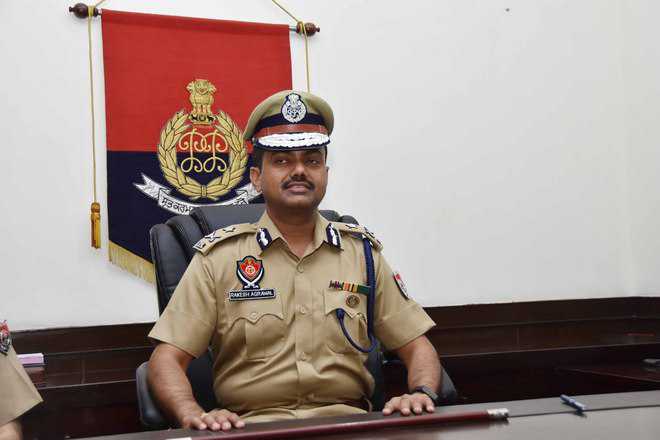 editorial@tribune.com
Nikhil Bhardwaj
Tribune News Service
Ludhiana, September 11
A day after joining as the Ludhiana Police Commissioner (CP), Rakesh Agrawal, started the phase of meetings with his team. He told senior cops, "Be an expert in the assigned job. Only then you can deliver justice to the people." The meeting was held at the conference hall in Police Lines.
The meeting was attended by five Deputy Commissioner of Police (DCPs), including DCP Akhil Chaudhary, DCP (Investigation/PBI) Gaganajit Singh, DCP (Law and Order) Ashwani Kapoor, DCP (Detective) Simrat Pal Singh and DCP (Traffic) Sukhpal Singh Brar. DCP (Investigation/Security and Operations) Balkar Singh is yet to join the office.
Additional DCP-1 Gurpreet Singh Sikand and ADCP-III Gurpreet Purewal along with ACPs of their zones, other ACPs, SHOs and women cell police officials were also present at the meeting.
The CP asked each official in the meeting to bring an initiative for policing better and he would make efforts to implement it in the Ludhiana Commissionerate.
"Being in police, we must think overboard to provide better policing to the people. If any cop has an idea or initiative, the implementation of which can bring positive results in policing, I will surely implement the same. If funds are required, I will talk to the Chief Minister, Punjab," the CP said.
---
Six DCPs 'headache' for Police Dept
Deployment of six DCPs in Ludhiana of which one is yet to join the office has become a headache for the Police Department. Sources said arranging offices, escort gypsies, security guards and other infrastructure has become a challenging task for Police Commissioner Rakesh Agrawal. Three DCPs, who joined the office on Wednesday asked for office and other staff. Now, the police have started searching internally for the office space to accommodate the DCPs. When asked about jobs assigned to the DCPs, Agrawal told The Tribune, "I am in touch with the police headquarters to discuss the issue. Soon, we will decide their exact area of working."
Plans to upgrade women, cyber cells
During discussion, when cops raised the issue of the Ludhiana cyber cell's dependence on the Mohali cyber cell for technical probe, the CP told them to prepare a plan and details of the required infrastructure be provided here. The CP also wants to upgrade the women police station so that its working becomes more professional.
The CP has asked cops to become proficient in the assigned job and get training if required. "Every police official needs to be proficient in the job assigned to him/her. It will help them in solving complaints or cases in a timely manner. If a cop is not aware which channel is he/she is to choose to start a probe in any case, how can he/she conduct a fair and timely probe?" the CP said while interacting with policemen. "If anyone of you is new to any role assigned, you are welcome to take training in that field so that you can lead from the front," the CP added.