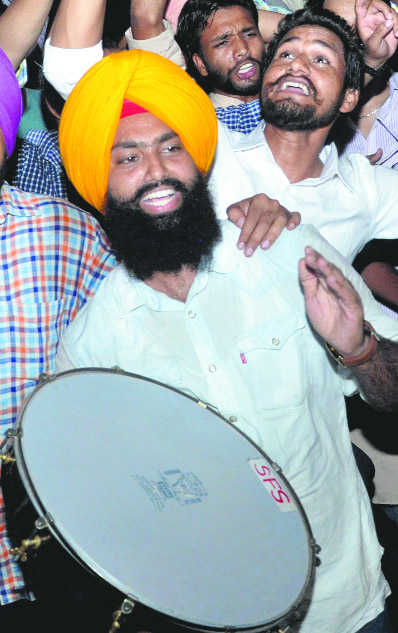 editorial@tribune.com
Sanjam Preet Singh
Tribune News Service
Chandigarh, September 8
For "neutral" students, the Panjab University (PU) elections are a time of holidays. Those staying in hostels, especially girls, head home. Why get embroiled in "dirty politics" is their refrain.
The "committed" ones stay back and they are assigned duties to ensure their friends, too, stay back. After all, every vote counts. And that's why every tactic in the rule book and beyond is employed to garner votes.
So much so that the PU elections have become synonymous with booze and money.
When Amritpal Singh (26), the Students for Society (SFS) presidential candidate who gave a tough fight this time, took admission to the PU, he thought it was a place for critical thinking. Soon, his perception changed. "Students here are concerned about clothes and cars. Initially, I could not find a student with whom I could discuss a book," he says.
Ash him about the scenario during the elections and he says, "Elections are a time to lure students. Increase in fee, harassment of girls on the campus and concerns of Dalits are never on the agenda of any party. When we started raising the issues, students took note."
The change happened in the past six years. Formed as a discussion group in September 2010, the SFS made inroads into the "politics of money".
Before the SFS, there were the All-India Students Federation (AISF) and the Revolutionary Youth Association (RYA) that tried to present an alternative in student politics. "But the SFS has raised the aspirations of students and the bar of politics. It has created a space where students can debate. Now, nationalism, communalism and caste are talked about on the campus," says Lallan Baghel, a professor of philosophy at the PU.
If one is to analyse the factors of change, there will be many, but hard-to-miss instrument of change has been the dafli. It has found a rhythm in the noise of speeches.
"A day before the elections, the SFS took out a rally on foot led by dafliwala Amritpal, while other parties took out rallies in cars.The difference was for everyone to see," says Paramjeet Singh, a PU professor of economics.
Nukkad nataks, unheard of at the PU before the formation of the SFS, has been the tactic of the party to put its point across. Amritpal plays the dafli to draw students and then the show starts.
"Nukkad nataks as a form of protest is new for the PU," says law student Vikramjeet Singh. With 349 votes separating Amritpal and Nishant Kaushal, who has been elected president, the SFS is celebrating.
So, will anything change? "It is difficult to predict the long-term change. In the short term, a space for dialogue will be created," says Prof Baghel.
Now, what next? Armed with daflis, "the SFS will keep on highlighting injustice on the campus and beyond," Amritpal says.