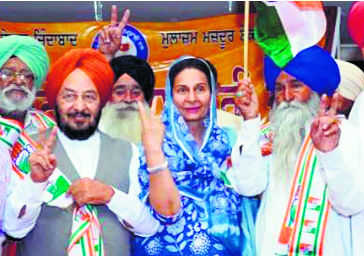 shalender@tribune.com
Tribune News Service
Patiala, May 1
The Congress got a shot in the arm when state president of the Punjab State Karmachari Union, Hari Singh Tohra, joined the party here today.
Tohra, an influential union leader, made an announcement of joining the Congress at a function of Labour Day celebrations at Pam Court Palace in Patiala.
Sources said the joining of Tohra was made possible by Congress Member of Legislative Assembly (MLA) from Rajpura, Hardyal Kamboj.
Tohra, who was the vice-president of the Aam Aadmi Party, Punjab, has been raising the voice of government and semi-government employees since long.
He said the state government had failed to fulfil the promises made before the 2017 Assembly elections. He said the Congress government had been ignoring the demands of government employees.
Tohra, after joining the party, said, "We had been protesting since long for the demands of government employees, but to no avail. I thought I should join the party, which is in power, and raise voice for employees. I am sure of getting things done by joining the Congress."
MLA Hardyal Kamboj said, "The party will definitely get a boost as Tohra is a strong union leader. With his joining, the gap between the government and employees will be filled. We hope he will make a good contribution for the betterment of government employees."
Addressing a few functions to mark the Labour Day here today, the Congress candidate from the Patiala parliamentary constituency, Preneet Kaur, said the Congress had already chalked out a comprehensive plan for basic minimum wages, which could help families live a respectable life.
Top Stories