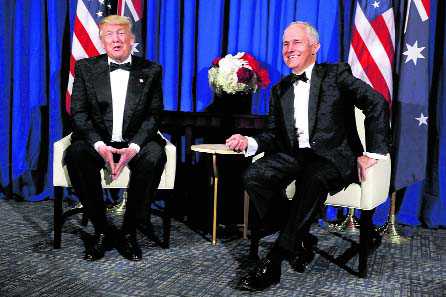 New York, May 5
US President Donald Trump met Australian Prime Minister Malcolm Turnbull for a patch-up meeting and said all issues had been "worked out" after a January telephone spat between the leaders had soured ties.
Trump said he had a "productive discussion" with Turnbull on a wide range of issues in New York after he returned to the city for the first time since taking office.
He said they discussed the future of the two countries from the perspective of national security and trade to immigration and enhanced economic cooperation.
"We affirmed the tremendous friendship between the US and Australia," Trump said, adding that the reports that they had a rough telephone call on January 28 was exaggerated.
"It's all worked out. It's been worked out for a long time," Trump said, adding, "We had a great telephone call. You guys exaggerated that call. That was a big exaggeration. We're not babies."
Trump's showering of praise came in stark contrast to what was reportedly a verbal spat between the two leaders over accepting refugees. Trump claimed the acrimonious call with Turnbull early in his White House tenure had been "fake news".
Turnbull was among the first foreign leaders with whom Trump spoke with after taking office on January 20. Trump was reportedly irritated because he was expected to honour a deal made by his predecessor Barack Obama to accept more than 1,200 refugees. The US President had abruptly hung up the call with the Australian premier after merely 25 minutes, rather than an hour the call was supposed to last.
---
Trump's 5-nation engagement trip
US President Donald Trump's five-nation trip to Europe and the Middle East this month is aimed at reversing US' disengagement with the world, establishing a new partnership with Muslim leaders and finding a long-term solution to extremism
Trump is to visit Saudi Arabia, Israel, the Vatican, Brussels and Italy on his first overseas trip as President later this month. The dates have not been announced yet
— PTI