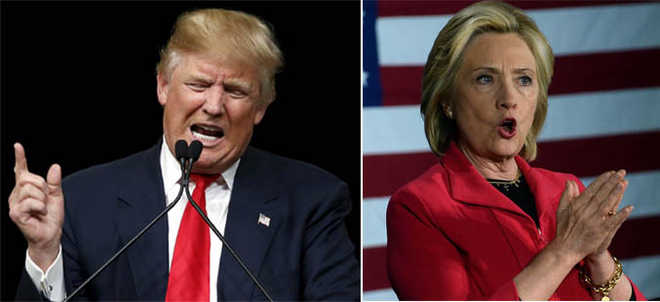 Washington, March 2
With US elections entering a critical phase, Republican Donald Trump and Democrat Hillary Clinton surged ahead in the presidential race on Wednesday after posting big wins in 'Super Tuesday' primaries as an epic face-off between them seemed likely after the multi-state vote.
Coming within striking distance of becoming the Republican nominee, Trump, who has faced intense attack from other contenders for his radical views, notched up victories in seven states—Alabama, Arkansas Georgia, Massachusetts, Tennessee, Vermont and Virginia.
68-year-old Clinton, who is the Democratic Party front-runner and is aspiring to be America's first woman president, also clinched seven states in the 'Super Tuesday' primaries—Alabama, Arkansas, Georgia, Massachusetts, Tennessee, Texas and Virginia.
However, both Clinton and Trump were denied a clean sweep which many poll pundits had predicted.
On the Republican side, Ted Cruz claimed Super Tuesday's biggest prize—Texas—along with Oklahoma and Marco Rubio landed his first win of the 2016 campaign in Minnesota, while on the Democrat side Clinton's main rival Bernie Sanders registered victories in four states.
Sanders captured Colorado, Oklahoma, Minnesota and his home state of Vermont.
Trump, 69, emerged from the contests closer than ever to the nomination and was acting more and more like a general election candidate eager to take on Clinton.
"Once we get all of this finished, I'm going to go after one person, and that's Hillary Clinton," he said in Florida.
"I think that's frankly going to be an easy race."
Speaking in Miami after notching several wins, Clinton also seemed to look beyond Sanders—taking implicit shots at Trump's 'Make America Great Again' campaign slogan.
"America never stopped being great. We have to make America whole," Clinton said.
Trump, on the other hand, asserted that he is "unifier" in the party and is bringing a cross-section of society to the Republican Party.
"I am a unifier. I would love to see the Republican party and everybody get together and unify. And there is no one who is going to beat us," Trump said.
"I think we're going to be more inclusive...more unified, and I think we're going to be a much bigger party. (The GOP) has become more dynamic. It's become more diverse. We're taking from the Democrats. I mean, look at South Carolina," he said.
In terms of delegates, Clinton had won 873, while Sanders had secured 296. For Democrats, 1,839 delegates are needed to clinch the nomination.
On the Republican side, 1,237 delegates were needed to clinch a nomination. Trump has secured 251 delegates, while Cruz has 114.
"This has been amazing evening...I want to congratulate (Cruz) on winning Texas, that was an excellent win. We are going to make America great again, folks," Trump said, as he used the occasion to slam Clinton.
"We have to rebuild our country. Our country is going to hell... and Hillary Clinton doesn't have a clue," Trump said.
Referring to Clinton's email scandal, he said: "I don't know if she'll be allowed to run. What she did was criminal.
"If she is allowed to run it will be a sad day for this country because what she did is wrong."
"And other people have done far less than her and they paid a very, very high price," he added.
Trump also spoke about his desire to be inclusive of women and minorities.
"We're going to do great with African-Americans...I'm going to be really good for women. I'm going to be good for women's health issues," he said.
Clinton, who also won the Democratic caucuses in the territory of American Samoa, said, "We have to make strong the broken places, re-stitch the bonds of trust and respect across our country."
"Now it might be unusual, as I've said before, for a presidential candidate to say this, but I'm going to keep saying it, 'I believe what we need in America today is more love and kindness," she said.
"Because you know what? It works. Instead of building walls we're going to break down barriers and build ladders of opportunity and empowerment so every American can live up to his or her potential, because then and only then can America live up to its full potential too," she said in an apparent swipe at Trump who has vowed to build a wall at the Mexico border.
Sanders, in his victory speech, said, "We started off the night winning Vermont, then we won Oklahoma and Colorado, and moments ago they called Minnesota for us as well. Four big victories for our political revolution tonight." Trump had already won three primaries and came second in Iowa behind Cruz.
Ahead of 'Super Tuesday', Clinton had also secured three wins in the first four early-voting states and has led significantly among blocs of black voters there.
Trump has stunned the Republican establishment to become the party's front-runner. Despite his controversial policies on immigration, the former reality TV star has been consistently polling well above his rivals—Cruz, Rubio, Kasich and retired neurosurgeon Ben Carson.
Both Senators Cruz and Rubio have ramped up their anti-Trump rhetoric over the past week, in a bid to halt his commanding lead in the race. — PTI