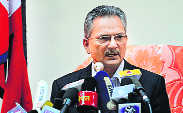 Kathmandu, September 26
Baburam Bhattarai, Nepal's former Prime Minister and top Maoist leader sympathetic to Madhesis, today resigned as lawmaker and also quit the party to form his own political "force" amid differences with the major Nepalese political parties over the new Constitution.
Bhattarai, a veteran leader of the Unified CPN-Maoist, was the senior-most leader after party chief Pushpa Kamal Dahal, popularly known as 'Prachanda'.
Bhattarai, who spent his years as a student at New Delhi's Jawaharlal Nehru University and is said to have close links with India, has been sympathetic to the agitation launched by Madhesi parties demanding more rights and representation to the people residing in the southern plains of Nepal.
He has consistently attacked lawmakers, including members of his own party, for not taking minorities' concerns into account during the drafting of the new Constitution — Nepal's first by elected representatives.
The 61-year-old leader has indicated that he would form a new political "force" within a couple of months.
"Effective from today, I have resigned from all obligations, responsibilities at all levels as well as general membership of the UCPN-Maoists," Bhattarai said. "I will now do what I can as a citizen of this country... as long as I am alive I will work for the country and the people," he said.
He also appeared to distance himself from the Maoist ideology and said Maoism has become irrelevant and obsolete in today's world. He has indicated that his new party would be democratic in nature. — PTI
Top News
Several centrally-protected monuments across the country lit...
Harried passengers take to social media to vent their ire at...
Lapid had stirred a massive controversy by terming Vivek Agn...
Voter turnout less than 66.75 pc recorded in first phase of ...
DigiYatra will provide seamless entry and embarkation proces...