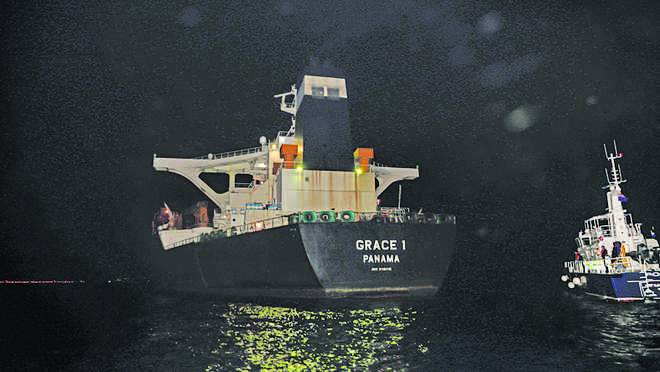 Tehran, July 5
Iran demanded on Friday that Britain immediately release an oil tanker it has detained in Gibraltar, accusing it of acting at the bidding of the United States.
A senior foreign ministry official "described the UK move as unacceptable" at a meeting with British ambassador Rob Macaire, who had been summoned to hear a formal protest, the ministry said in a statement.
He "called for the immediate release of the oil tanker, given that it has been seized at the request of the US, based on the information currently available", the statement added.
Authorities in Gibraltar, a British overseas territory on Spain's southern tip at the western entrance to the Mediterranean, said they suspected the tanker was carrying crude to Syria in violation of EU sanctions.
The detention of the 330-metre Grace 1 vessel comes at a sensitive time in Iran-European Union ties as the bloc mulls how to respond to Tehran announcing it is poised to breach the uranium enrichment limit it agreed to in a troubled 2015 nuclear deal.
The Grace 1 tanker was halted in the early hours of Thursday by police and customs agencies in Gibraltar, aided by a detachment of British Royal Marines.
The ship was detained 4 km south of Gibraltar in what it considers British waters, although Spain, which lays claim to the territory, says they are Spanish. — AFP
Gibraltar: Detained tanker of own accord
Gibraltar, which has detained an Iranian tanker suspected of carrying oil to Syria in violation of sanctions, said on Friday it acted of its own accord and not on any other government order. Spain's Foreign Minister Josep Borrell had said the ship was detained in waters off the overseas British territory on Spain's southern tip at the request of the US. "There has been no political request at any time from any government," Gibraltar's government said in a statement.
'Tehran should seize British oil tanker'
A former leader of Iran's powerful Revolutionary Guard said on Friday that the Islamic Republic should consider seizing a British oil tanker in response to authorities detaining an Iranian oil tanker off the coast Gibraltar. The comments by Mohsen Rezaei came amid heightened tensions over Iran's unravelling 2015 nuclear deal.
Top News
Turkey sits on top of major fault lines and is frequently sh...
Earlier, TMC skips opposition meeting on the issue
Two vacancies still remain there in the top court
This will be the third session after the high-stakes municip...
He will also lay the foundation stone of various development...