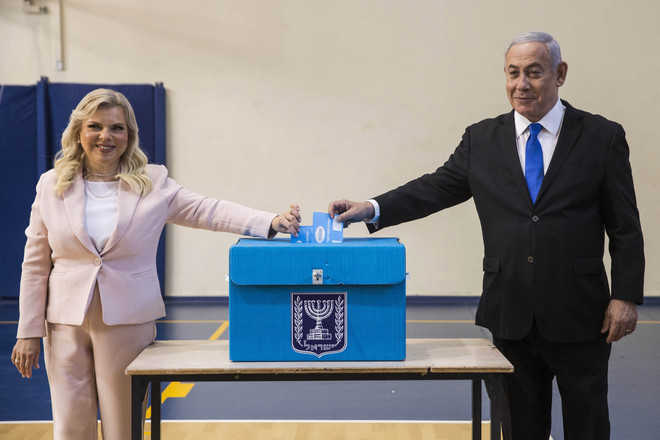 Jerusalem, September 17
Israelis today voted in their country's second general election in five months, a contest that is being widely seen as a referendum on incumbent Prime Minister Benjamin Netanyahu's leadership. Netanyahu, 69, called the snap election after failing to form a governing coalition with a viable majority after April's vote.
About 6.3 million eligible Israeli voters can exercise their right to elect the 22nd Knesset (Israeli parliament) necessitated by the inability of Netanyahu to cobble a coalition of 61 members in a house of 120 following the April 9 elections.
Voter turnout in Israeli elections hit 26.8 per cent mark at noon time, a tad higher than on April 9 at the same hour, with the larger parties, ruling Likud and main rivals Blue and White, resorting to traditional mobilisation tools to create panic among their sympathisers to bring them out to vote. "The turnout at noon time was 2 per cent higher than 24.8 per cent recorded at the same time during the last polls," Director of Central elections Committee, Orli Adas, said calling it "an impressive trend".
The election is being seen as the toughest political challenge for Netanyahu, something akin to a referendum on the continuity of his more than 10 years of uninterrupted leadership at the helm of affairs. The polls pit Netanyahu, the leader of the right-wing Likud party and Israel's longest-serving PM, against his toughest opponent in years — former military chief Benjamin "Benny" Gantz of the centrist Blue and White party. PM from June 1996 until July 1999, Netanyahu has held the post since March 2009 and is seeking a record fifth term. — Reuters
Bibi on the Fb Radar
Facebook suspended Israeli PM Benjamin Netanyahu's Facebook chatbot for the second time in less than a week, this time for "violating local laws" (for illegally sharing polling information).