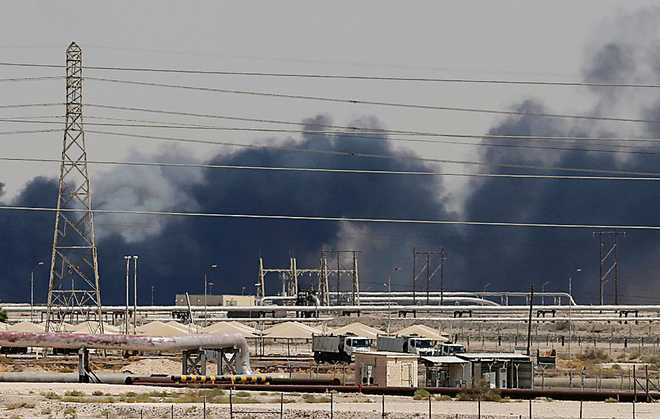 Washington, September 16
The US is "locked and loaded" to respond to the unprecedented drone strikes on key Saudi oil facilities, President Donald Trump has warned, a day after his top diplomat blamed Iran for the crippling attack that has led to the biggest surge in crude oil prices since the Gulf War.
Meanwhile, Iran said its President Hassan Rouhani will not meet US President Donald Trump at the United Nations.
The attacks on Saturday targeted Abqaiq, the site of the largest oil processing plant run by the Saudi state oil company, Aramco, and the Khurais oilfield. Iran has denied involvement in the air attacks, which were claimed by Iran-aligned Houthi rebels in Yemen.
US Secretary of State Mike Pompeo blamed Iran for the attack, without providing any evidence, prompting Tehran to accuse Washington of deceit. Tweeting on Sunday, President Trump stopped short of directly accusing Iran, but suggested possible military action once the perpetrator was known to his administration.
"Saudi Arabia oil supply was attacked. There is reason to believe that we know the culprit, are locked and loaded depending on verification, but are waiting to hear from the Kingdom as to who they believe was the cause of this attack, and under what terms we would proceed!" Trump said. Trump used similar language in June when he announced he had called off an attack on Iran just as the US was "cocked & loaded" to strike because he decided it would cause too many deaths for a proportionate response to Tehran's downing of a US drone.
The coordinated strikes on key Saudi Arabian oil facilities disrupted 5 per cent of the daily global oil supply. The attacks sent oil prices sky-rocketing on Monday, with Brent futures up USD 12 — or nearly 20 per cent — in the first few minutes of business, while West Texas Intermediate (WTI) jumped more than USD 8, or 15 per cent, AFP reported. It was the biggest rise since the 1990-1991 Gulf War, it said. The attack has caused another spike in tensions between the US and Tehran.
Iran's foreign minister Javad Zarif took to Twitter to issue a denial. "Having failed at "max pressure", @SecPompeo's turning to "max deceit," Zarif wrote. "US & its clients are stuck in Yemen because of illusion that weapon superiority will lead to military victory. Blaming Iran won't end disaster. Accepting our April '15 proposal to end war & begin talks may." — PTI/Reuters
China, Russia back tehran
Beijing/Moscow: China and Russia on Monday threw their weight behind Iran over the drone attacks on oil facilities in Saudi Arabia. They said no one should draw "hasty conclusions". We don't think it is responsible to blame anyone without conclusive investigation, Chinese Foreign Ministry spokesperson Hua Chunying said. Kremlin spokesman Dmitry Peskov said, "We have a negative attitude towards rising tensions and call for all countries to avoid any hasty step which may deepen destabilisation." PTI/Reuters
Rebels threaten new attacks
Sanaa: Yemen's Iran-backed Huthi rebels, who claimed responsibility for devastating weekend attacks on Saudi oil facilities, threatened Monday to carry out more strikes and urged foreigners to stay away. "We assure the Saudi regime that our long hand can reach any place we want at any time we choose," Huthi military spokesman Brigadier Yahya Saree said in a statement. The Huthis, who captured the Yemeni capital Sanaa in 2014, have been fighting against a Saudi-led coalition. AFP
Iran seizes boat
Tehran: Iran has seized a boat suspected of being used to smuggle fuel and arrested its 11 crew members near a vital oil shipping lane. A naval patrol of the Islamic Revolutionary Guard Corps intercepted the vessel carrying 250,000 litres of fuel from Bandar Lengeh towards United Arab Emirates waters, near the Strait of Hormuz, state TV's website said, citing Brigadier General Ali Ozmayi was quoted as saying. AFP
Top Stories