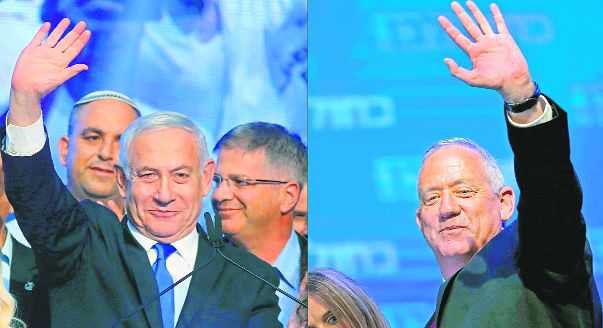 Jerusalem, September 18
Israeli Prime Minister Benjamin Netanyahu failed to win a ruling majority in an election that produced a virtual tie between his right-wing bloc and a centre-left grouping that would be led by former military chief Benny Gantz.
Netanyahu's Likud party trailed its main rival Blue and White by 31 to 32 seats on Wednesday, putting the country's longest serving premier on a shaky ground and raising the possibility of a unity government.
Israelis voted on Tuesday in their country's second general election in five months after 69-year-old Netanyahu failed to form a governing coalition with a viable majority following April's vote.
The Central Election Committee (CEC) said Blue and White party seemed to be taking a lead over Likud after 91 per cent votes were counted.
As per figures shared by the CEC, the centre-left bloc now has 56 seats compared to Netanyahu-led bloc, comprised of right-wing and ultra-Orthodox parties, which is at 55 seats in the 120-member Parliament. The Joint List, an alliance of mostly Arab Israeli parties, also has gained a seat standing at 13. These numbers may change slightly when the votes of soldiers are counted later on Thursday.
The secular Yisrael Beitenu party won nine seats, making its leader and former defence minister Avigdor Lieberman the kingmaker in the elections.
Meanwhile, the Netanyahu's office said the prime minister will not travel to New York next week for the UN General Assembly in the wake of the election results.
Lieberman, an ally-turned-rival of Netanyahu, said, "The picture is clear...There is only one option and it's a broad liberal unity government, comprising of Likud, Blue and White and his own Yisrael Beitenu." — PTI
Top Stories