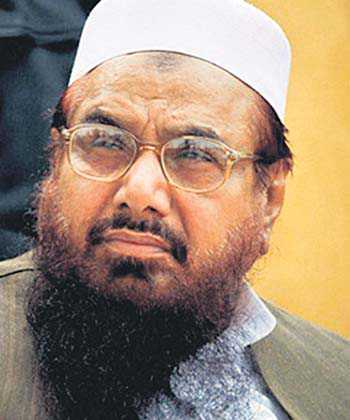 Islamabad, April 8
Pakistan is working on a draft Bill to permanently ban Mumbai attack mastermind Hafiz Saeed-led Jamaat-ud Dawa as well as other terror groups and individuals on the watch list of the interior ministry, a move which has the backing of the powerful military establishment.
The Bill will replace the presidential ordinance that banned outfits and people already on the watch list of the interior ministry, Dawn reported today.
Citing its sources in the law ministry, the paper reported that the proposed draft bill to amend the Anti-Terrorism Act (ATA), 1997 was likely to be tabled in the upcoming session of the National Assembly scheduled to commence tomorrow. The law ministry was involved in the process for the purpose of vetting the proposed draft bill, the sources said, adding that the military establishment was also on board.
The powerful military establishment enjoys considerable influence over policy decisions in Pakistan.
The government decided to prepare a draft bill to amend the ATA as part of its damage-control campaign after the Financial Action Task Force (FATF) approved a nomination proposal tabled jointly by the US, the UK, France and Germany to place Pakistan on the international watchdog's money-laundering and terror-financing grey list in February.
Earlier, President Mamnoon Hussain had promulgated the ordinance amending the ATA to include entities listed by the UNSC as proscribed groups but it will expire in 120 days.
The National Assembly can extend it for another four months after which it has to be tabled before both the houses — National Assembly and the Senate — for further extension.
Through the ordinance, amendments were made to ATA's Section 11-B that sets out parameters for proscription of groups and Section 11-EE that describes the grounds for listing of individuals. In both sections, Sub-Section 'aa' was added.
According to the sub-section, organisations and individuals "listed under the United Nations (Security Council) Act, 1948 (XIV of 1948), or" will be included in the First Schedule (for organisations) and Fourth Schedule (for individuals), respectively, on an ex parte basis. Under Section 11-EE, the requirements were: "(a) concerned in terrorism; (b) an activist, office-bearer or an associate of an organisation kept under observation.
In addition to the draft Bill, Pakistan is also preparing a consolidated database of known terrorists and terrorist organisations which will be accessible to financial institutions and law-enforcement agencies of the country to strengthen the regime against money laundering and terror financing. — PTI
---
Hafiz Saeed in denial mode
The presidential ordinance that banned outfits and people already on the watch list of the interior ministry has already been challenged by Hafiz Saeed in the Islamabad High Court
He claimed that the ordinance had been promulgated due to external pressure and hence was not only prejudicial to the sovereignty but also contradictory to the fundamental rights enshrined in the Constitution
His JuD is believed to be the front organisation for the LeT which is responsible for carrying out the Mumbai attack that killed 166 persons. It has been declared as a foreign terrorist organisation by the US in June 2014
---
Musharraf won't return, for now
Pakistan's former military ruler Pervez Musharraf today postponed his plan to return to the country, saying he will not return until an interim government is formed, a media report said on Sunday
The former president and chief of All Pakistan Muslim League has postponed his plan to return from the UAE as the incumbent government will not provide him the security he had applied for, a party leader said
He is likely to return by end of May or even start of June as soon as a caretaker government is formed, the party leader told the Express Tribune
The 74-year-old retired general has been living in Dubai since last year when he was allowed to leave Pakistan for medical treatment