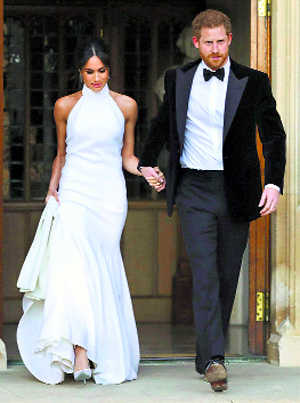 London, May 20
Prince Harry and his new wife Meghan began married life after their spectacular, rule-breaking wedding, but will be delaying a honeymoon as they turn immediately to royal duties.
The newly ennobled Duke and Duchess of Sussex staged a huge party after the ceremony on Saturday at Windsor Castle, where they were greeted by around 100,000 people lining the streets and watched by millions around the world.
The beaming couple were seen driving to the evening bash in a vintage Jaguar, Meghan having changed from her sweeping Givenchy wedding gown into a sleek Stella McCartney halterneck dress, with Harry switching his military frockcoat for black tie.
On the bride's finger was a large aquamarine ring, which belonged to Harry's beloved late mother, Diana.
Details of the bash, hosted by Prince Charles in a house on the castle grounds for 200 close friends and family, were a top secret although fireworks were seen over Windsor late in the evening.
Some of the celebrities who attended the earlier service, including George Clooney and tennis star Serena Williams, were also spotted heading in. The wedding was unlike no other the royal family has ever staged, a mix of the pageantry that Britain does so well, with celebrity razzmatazz and African-American culture. In a ceremony filled with laughs and not a few tears, the couple held hands throughout, and the prince was visibly emotional as he greeted his bride at the altar saying: "You look amazing." A gospel choir sang "Stand By Me" and US pastor Michael Curry delivered a passionate, lengthy address about the power of love, referencing slavery.
Meghan, a mixed-race television actress, also made her mark by walking up the aisle partly on her own, and giving a speech at the evening reception.
"Kisstory: Harry & Meg's historic change for monarchy," headlined The Sun on Sunday, with a photograph of the couple kissing on the steps of St George's Chapel.
"If ever there was a wedding to symbolise modern, multi-cultural, multi-racial Britain, yesterday's was it," the Sunday Mirror wrote in an editorial.
"Disney could not have come up with a better princess," said the Sunday Telegraph, while The Mail on Sunday simply said: "Harry ever after!" After staying at Windsor overnight, Harry and Meghan were due to return to their home at Kensington Palace in London. — AFP
1.9 billion people watched royal wedding
An estimated 1.9 billion people tuned in to watch Prince Harry and Meghan Markle's star-studded royal wedding at the iconic St George's Chapel in Windsor Castle, according to a media report
"Meghan Markle and Prince Harry joined hands and exchanged vows in front of the archbishop of Canterbury, Justin Welby, and an estimated 1.9 billion people watching the royal wedding on television around the world," the 'Daily Express' reported
An estimated 100,000 people turned out to see the couple, the new Duke and Duchess of Sussex, as they sat in an open-top Ascot Landau for a carriage procession
Markle promises more time for Indian charity
Newly-wed Meghan Markle has promised to give more time to the Indian charity handpicked for donations in lieu of gifts for her royal wedding to Prince Harry, Duke of Sussex
The 36-year-old former actress told Mumbai-based Myna Mahila Foundation founder that she was looking forward to giving more time to the women's empowerment charity
The charity, founded in 2015, works on getting women talking about taboo issues such as menstrual hygiene. It provides employment to women from the urban slums of Mumbai, many of whom then also go door-to-door selling the low-cost sanitary napkins they produce
Markle was impressed by their work during a visit to India last year and had pledged her support, a promise that she kept when she and Prince Harry were shortlisting charities that would become beneficiaries of donations
Top News
Several pictures of Amritpal Singh in different attires rele...
Severest of severe action taken: CM | Amritpal's lawyer alle...
The report of the panel was tabled in the Lok Sabha on Tuesd...