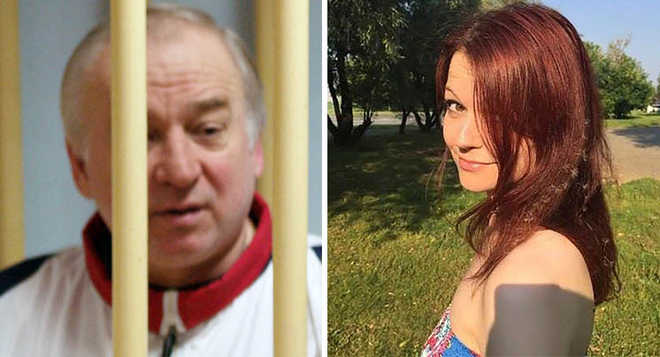 London, March 29
The former Russian double agent and his daughter who were targeted with a deadly nerve agent came into contact with the poison at their Salisbury home in the UK, Scotland Yard have confirmed, noting that the "complex probe" into the attempted murders will continue for several weeks.
Specialists have identified the highest concentration of the nerve agent to-date as being on the front door of the address, which was home to the former spy.
Following detailed forensic and scientific examination, the Metropolitan Police said on Wednesday that the detectives believed Sergei and Yulia Skripal first came into contact with the Russian-made nerve agent at their home address in Salisbury.
"At this point in our investigation, we believe the Skripals first came into contact with the nerve agent from their front door. We are therefore focusing much of our efforts in and around their address.
"Those living in the Skripals' neighbourhood can expect to see officers carrying out searches as part of this but I want to reassure them that the risk remains low and our searches are precautionary," said Deputy Assistant Commissioner Dean Haydon, Senior National Coordinator for Counter Terrorism Policing with the Met Police.
Thanking the local community, he said his officers were likely be in the area for "several weeks and months" as the "complex investigation" into the attempted murders of Sergei and his daughter continues.
The Met Police described it as one of the largest investigations undertaken by British counter-terrorism policing.
Officers will be carrying out thorough searches in the areas surrounding the Skripals' address as part of the ongoing investigation and as a precautionary measure.
Around 250 counter-terrorism detectives continue to work around the clock on the investigation, supported by a full range of experts and partners.
Officers continue to trawl through more than 5,000 hours of CCTV and examine over 1,350 exhibits that have been seized.
Around 500 witnesses have been identified and hundreds of statements taken.
Traces of the nerve agent have been found at some of the other scenes detectives have been working at over the past few weeks, but at lower concentrations to that found at the home address.
Specialist search officers are now concluding their "meticulous work" at some of these scenes and as they do so, are handing these back to local Wiltshire Police.
"It is an extremely challenging investigation and police and partners continue to manage a number of unique and difficult issues. We thank the public for their continued support," said Wiltshire Police Deputy Chief Constable Paul Mills.
The Maltings shopping centre, where the father and daughter were found slumped on March 4, is among the sites handed back to Wiltshire Police from the UK national counter- terrorism investigation, Mills added.
British Prime Minister Theresa May has said the chemical used in the attack was part of a group of nerve agents developed by Russia known as Novichok. Russia has denied any involvement in the attack.
As many as 27 countries have joined the UK in expelling Russian diplomats from there countries in a show of solidarity. PTI
Top Stories