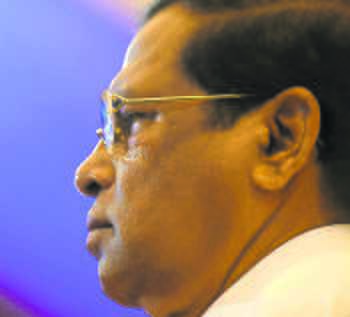 Colombo, October 28
In a relief to Sri Lanka's embattled leader Ranil Wickremesinghe, Parliament's Speaker refused to endorse his sacking as the Prime Minister, even as President Maithripala Sirisena on Sunday asserted that the appointment of Mahinda Rajapaksa as his successor was in strict accordance with the Constitution.
In a letter to Sirisena, Speaker Karu Jayasuriya backed the ousted PM's request to retain his privileges and security until another candidate could prove a majority, saying it was "democratic and fair". He also questioned the President's decision to suspend Parliament till November 16, saying it will have "serious and undesirable" consequences for the country.
Sirisena on Friday night sacked Wickremesinghe and appointed former strongman Rajapaksa as the new PM.
The next day, Sirisena suspended Parliament after Wickremesinghe, who had termed his sacking illegal and unconstitutional, sought an emergency session to prove his majority.
The President also withdrew Wickremesinghe's personal security and vehicles in order to accord them to his 72-year-old successor, who staged a dramatic political comeback.
In his first address to the nation after sacking Wickremesinghe, Sirisena said his former ally's political conduct since the victory in 2015 elections was unbecoming.
Sirisena also accused the United National Party (UNP) leader of treating very lightly the alleged plot to assassinate him. The President last week accused his unity government partner, UNP, of going slow on the investigations after a man named Namal Kumara disclosed the alleged plot to assassinate him and former defence minister Gotabhaya Rajapaksa.
"Having taken into consideration all crises, the political and economic as well as the assassination plot, I was only left with one alternative, which was to appoint Rajapaksa as PM," Sirisena said. Rejecting the allegation that the sacking was unconstitutional, he said, "The appointment was made on expert advice in strict accordance with the Constitution." — PTI
Justifying the ouster
"(Wickremesinghe) appeared to treat Sri Lanka's future as a joy ride for a coterie of people around him... he completely destroyed the concept of good governance." Maithripala Sirisena, Sri Lanka President
Ranatunga's guards open fire, one killed
Amid ongoing crisis, one person was killed and two injured as bodyguards of Petroleum Minister Arjuna Ranatunga, a Wickremesinghe loyalist, opened fire on Rajapaksa supporters
Rajapaksa calls for snap polls
New PM Mahinda Rajapaksa said: "The primary objective… is to hold provincial council and parliamentary polls to allow people to vote for a programme that will bring the country out of crises."
Top Stories