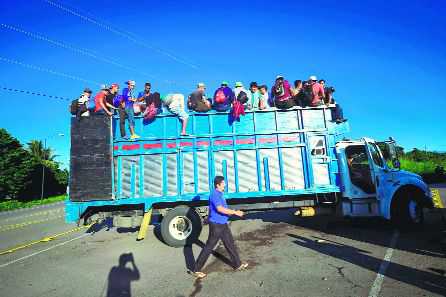 Tapachula (Mexico), Oct 22
President Donald Trump said Monday the US will start cutting aid to Guatemala, Honduras and El Salvador as a caravan of thousands of mostly Honduran migrants rolled on regardless toward the US border.
Trump kept up his almost-daily Twitter attacks on the approaching caravan, calling it a national emergency and said he had alerted the US border patrol and military. "We will now begin cutting off, or substantially reducing, the massive foreign aid" that the US provides to the three Central American countries, he said.
Mexican authorities had managed to block the "caravan" of migrants on a border bridge between Mexico and Guatemala. US Secretary of State Mike Pompeo also warned that the migrants "may be victimised by human smugglers or others who would exploit them." — AFP