Preserving the soul of Les Miserables
By Ervell E Menezes
THE New Year has not been very special with regard to foreign films. They just don't seem to click. Whether it is the tight market situation or the festival season (folks spending money on other things) or the lukewarm content of the films, it is hard to say. Antz. though released last year, was expected to have a good run in the New Year, but it didn't. Dance With Me. that Vanessa Williams musical was also a non-starter.
Billie August's Les Miserables that Victor Hugo classic often times made into a film, is not likely to set the Seine (or for that matter the Ganga) aflame but I'm happy August didn't choose to do with the story what Alfonso Cuaron did with Great Expectations — ruined it. Admittedly, it isn't to recreate those classics, which run into generations, but even though August from time to time lets the film slip out of grasp (only for brief moments) he is able to preserve the soul of Victor Hugo's novel.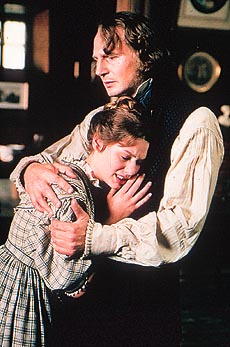 Should a condemned man be given a second chance? Will he turn a new leaf? Valjean (Liam Neeson), the hero of Les Miserables is put into prison for 20 years for robbing food so his being born poor is his only crime. But stealing has become second nature to him, so much so when the Bishop (Peter Vaughn) offers him supper and a bed to sleep in, he reciprocates by stealing his silver cutlery.
But when the police bring back Valjean to the Bishop he tells them that he's given him the cutlery. What's more he adds the silver candlesticks to his loot. "With this silver I bought your soul...and now I give you back to God." Hard to believe such acts in today's corrupt world, within the clergy or without, but that is the focal point of the film. It is an act which completely transforms Valjean who because of his goodness is made mayor of Vigau. But the reform man just cannot escape the wrath of former Inspector Javert (Geoffrey Rush) who identifies him and wants to bring him to book.
Astutely condensed by scriptwriter Rafael Yglesias and handsomely mounted by director Billie August, the 19th century ambience is brilliantly recaptured. It is only the vast canvas that is at times detrimental to the pace of the film. The morality aspect, so strong in those distant times, is also graphically recreated. So is the dire poverty. Valjean rescues a woman of ill-repute and pledges to bring up her illegitimate daughter Cossette (Claire Danes) after her death. It is Cossette's romance with a Parisian revolutionary Marius (Hans Matheson) that is rushed through.
Still, all things considered, The Miserables (English translation) is an above-average film with Liam Neeson showing that he is now (after Michael Collins and Rob Roy) in the mould of a top billing actor and he is well supported by Geoffrey Rush who makes himself quite despicable as the villain. Uma Thurman is wasted as Fanine while Claire Danes continues to impress as Cossette. Peter Vaughn's cameo as the all-forgiving Bishop is a stand-out, even if the film isn't.
Set in Paris too is Madeline, a children's film centred on an orphaned girl (Hatty Jones) and her escapades in a boarding school for girls. Using elements from four of Ludwigs Bemelman's illustrated books about this plucky heroine Madeline there is enough of incidents to keep the viewer absorbed (if not engrossed) as the boarders with the aid of nun-headmistress Miss Clavel (Frances McDormand) thwart the designs of Lord Covington (Nigel Hawthorne) who is bent on closing down the school.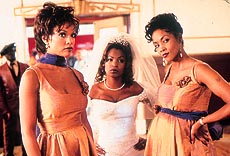 May be it is predictable but a good plot and a climax worth waiting for round of the rather sweet story rather convincingly. There's slapstick and doses of humour plus some cute lines voiced by those precocious pre-teens. Frances McDormand who won the Best Actress Oscar for Fargo a couple of years ago, shows why she won it by an impressive performance.
Soul Food is a cute film about blacks which Twentieth Century-Fox didn't even import because they felt it wouldn't do well, commercially. It was released on Star TV. Directed by George Tillman Jr it is a warm story which gives one an insight into the family ties of the blacks. Related by a grandson Ahmed in the household, it captures the sea-saw struggle between three daughters when the matriarch Mother Joe falls ill and the family is falling apart.
Teri (Vanessa Williams) is a lawyer and decision-maker because she earns the most. Maxine (Nia Long), is a homemaker and Bird (Viveka A. Fox), a struggling owner of a hair salon. Their husbands, one of whom is an ex-convict, with their problems don't make things easier. But it is the Sunday afternoon dinners which sort of unites them. Based on the George Tillman's experiences it is a well-crafted film. Raw, yet human, tough yet caring and strikes yet another blow for black cinema. In the best tradition of Spike Lee and John Singleton. Catch it on TV.




This feature was published on February 14, 1999