Wednesday, January 12, 2000,
Chandigarh, India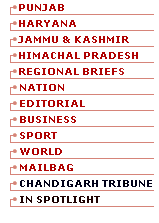 S P O T L I G H T
Indo-US pact on lifting curbs
WASHINGTON, Jan 11 (PTI) — After months of protracted negotiations, India and the USA inked an agreement for a 15-month phase out of import curbs between the two countries. Announcing this yesterday, US Trade Representatives Charlene Barshefsky told mediapersons that tariff restrictions on half of the 1400-odd items India imported from the USA would be lifted by April 1, 2000. On the remaining 714 items India would lift the import curbs by April 1, 2001.
Order illegal
MUMBAI, Jan 11 (PTI) — In a significant order, a Sessions Court has held "illegal" an official order of the Maharashtra Government which last week appointed six Additional Public Prosecutors of Magistrate's court to conduct trials in the sessions court. Additional Sessions Judge H.S. Deshpande delivered the verdict yesterday.
Suicide bomber held
COLOMBO, Jan 11 (PTI) — Sri Lankan security officials arrested an alleged LTTE suicide bomber in the eastern Batticaloa disrict during search operations yesterday, media reports said here today. The reports said 20-year-old Mannan, a Tamil youth, believed to be the area leader of the district, was assigned to kill leader of pro-government, Eelam Peoples Democratic Party (EPDP), Douglas Devananda.
Arundhati held, 5 hurt
KHARGONE (MP), Jan 11 (UNI) — Booker Prize winner Arundhati Roy was arrested today along with nearly 500 other Narmada Bachao Andolan (NBA) activists for violating prohibitory orders during a protest against the Maheshwar Hydel Project near Mandleshwar. The NBA said five activists were injured in the police action which came after a tense two-hour standoff near the dam.